Culture and Living
|
Iceland Monitor
|
Thu 16 Feb 2017
|
11.30 GMT
Icelandic Instagram account confronts "dick pic" guys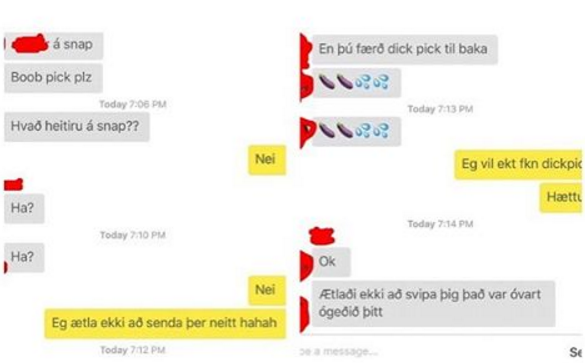 This guy won't take no for an answer and insists on sending a dick pick. Screenshot/Instagram.com/favitar
Guys sending women unsolicited "dickpics" is as much of a problem in Iceland as it is elsewhere and now a man and a woman have set up an Instagram page called "Fávitar" (Idiots) to call them out. Not only do dick pics appear on the page but also awful, stupid, harassing and creepy messages being sent to women on social media.
Sólborg Guðbrandsdóttir and Styrmir Barkarson set up the account where incredibly stupid, agressive and harrassing messages are being sent to women in Iceland. The names of the senders are blanked out but the messages are there for all to see.
Women in Iceland can send their harrassing messages to the editors of the page.