Culture and Living
|
Iceland Monitor
|
Mon 5 Sep 2016
|
11.35 GMT
A new book about the history of skyr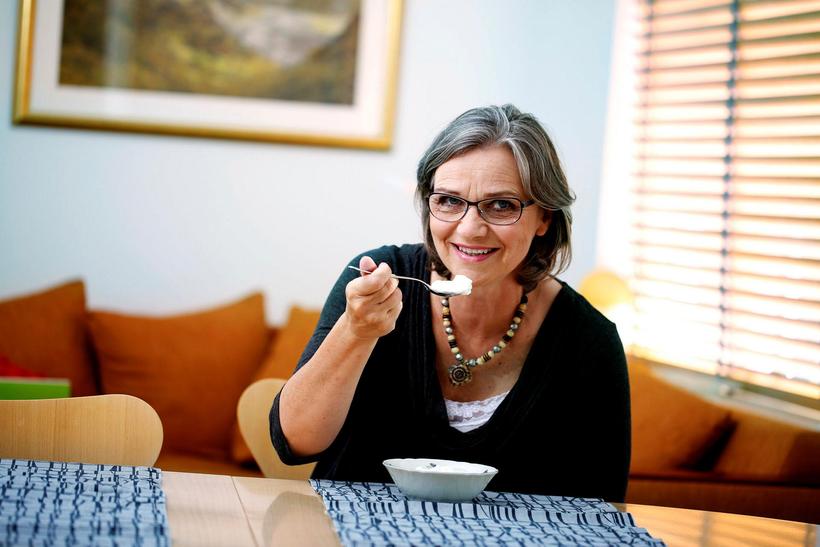 "Skyr has been a part of our culture since the time of settlement," says author Þorgerður Ragnarsdóttir. Mbl.is/ Eggert Jóhannesson
Þorgerður Ragnarsdóttir who is a nurse at the National University Hospital of Iceland has published a book about skyr, Iceland's unique dairy product. The book is available in four languages.
"I was wondering what kind of information we were passing onto tourists about Icelandic food and Icelandic eating habits. I feel that Icelandic food is often presented to foreigners as something disgusting, something awful to eat," she explains in an interview with Morgunblaðið.
She took a few months leave from work to research her project on a product which has been a part of Icelandic life from the beginning of the time of settlement. She explains that she was fascinated by remainders of skyr that's a thousand years old in ancient jars at the National Museum.
"I wanted to present skyr in a positive manner. Skyr has from the beginning been a part of our culture. And there are plenty of interesting stories regarding skyr."
The popularity of skyr has never been greater, and it's now becoming a successful export, and has even been copied by international food chain Arla, something which didn't go down too well with Icelanders.
"I hope that the book sells well, just like good Icelandic skyr," explains Ragnarsdóttir and laughs.