Culture and Living
|
Iceland Monitor
|
Sat 11 Jun 2016
|
10.00 GMT
Yoga classes in English at the heart of Reykjavik
Bjarney Hinriksdóttir, known as Baddý, got hooked on yoga eight years ago and is now offering classes in English in a dance studio right next to the hip Kex Hostel in downtown Reykjavik.
How did you first discover yoga?
"It took a bit of convincing from a friend to get me to my first yoga class. I was a skeptic, I thought yoga was something altogether different, and not for me. But then I finally signed up for an Ashtanga-Vinyasa beginners course and I ended up pretty much hooked. It became a tool to connect inwards with myself, more then anything else."
When did you decide to take this further and become a yoga teacher?
"A little more then two years ago I started to feel that I wanted to teach yoga. Yoga and meditation and other beautiful spiritual teachings have been life-savers in my life so I started to feel that I had to find a way to share it. I always felt, and I still do, that teaching yoga and meditation, or any teaching for that matter, is a huge responsibility, so I took my time do my research and to select a teacher training that resonated with me. That research brought me to Ubud, Bali, where I finished my training with an amazing teacher called Cat Kabira.
I went back again for more studies few months later and finished the advanced training with Cat. Another teacher that has inspired me immensely is Julie Martin. I love her no-bullshit, ever-exploring approach to yoga. I want to teach only what I practice and what I know, and especially what I enjoy. And I want to keep being a student forever."
Did you feel that there was a lack of classes in English in Iceland for drop-ins?
"Being a big traveller myself I love to be able to attend a class wherever I go in a language that I understand. The wish that people could keep up with their practice while they are travelling is what inspired me to start Reykjavík Yoga, but then now I also have quite few wonderful regulars attending my classes. Icelandic is a tough language to learn and there are many people living here that prefer yoga classes in English."
Do you get many drop-ins from Kex Hostel?
"Most of the drop-in students have been guests of Kex Hostel. There is a nice collaboration going on between Kex hostel and the Dance Atelier. Plus It's always good to have yoga just next door."
Can everyone attend classes?
"I don't place an age limit, but I carefully describe my class so people can then choose if it will fit their needs. Teenagers are very welcome."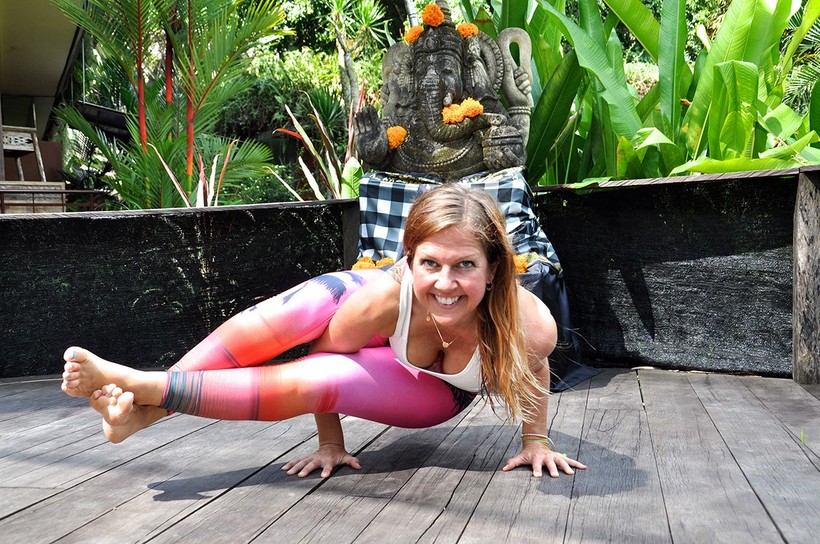 "The wish that people could keep up with their practice while they are travelling is what inspired me to start Reykjavík Yoga," says Baddý.
Could you describe the classes in a little more detail?
"My classes are designed to help you connect with your body and calm your mind through a deep, powerful and creative Vinyasa-flow, linking movement with breath. They are less about achieving postures and more about feeling grounded, centered and strong. Each class starts with a mindfulness meditation, a moment to ground and start feeling into your body. You get a time for yourself to pause, relax, breathe and become curious about what arises inside. The class slowly builds up, from an easy warm-up on the floor that allows you to savour each moment and move with intention, to a more invigorating movements and yoga poses, sometimes bringing out sweat and inviting you to step out of your comfort zone. Each class then ends with a sweet relaxation of 10-15 minutes.
I play music in my classes, carefully choosing a playlist that goes with the rhythm/theme of the class. I use the music as a support for the intention of the class, to create an integrated experience for the senses.
I make emphasis on the fact that yoga is a personal journey, you are in the class on your own premises and that learning to listen to your own body is essential for the practice to be safe and joyful. I do place a special attention on strengthening the centre of the body and you can expect some core exercises in all of my classes.
My wish is that you will step off the mat in the end of the class, having nourished your spirit, feeling amazing and physically and mentally fulfilled. "
Find Reykjavik Yoga on their website HERE.