Culture and Living
|
Iceland Monitor
|
Tue 7 Jun 2016
|
11.45 GMT
|
Modified 9 Jun 2016 10.24
Greatest hits of the Icelandic sagas: The play
Icelanders take pride in their literary heritage, in particular the Icelandic sagas written from the twelfth to the fourteenth century. Reading through all of these forty sagas to get to know Icelandic culture and heritage might be fun, but seeing the play is a tad quicker and funnier.
The play Icelandic Sagas: The Greatest Hits is presented by two Icelandic actors who jump from the role of one heroic housewife or Viking to the next (along with kings, queens, shepherds and more), all dressed up in Viking attire, and sneakers. The play is 75 minutes long, so the knowledge you end up with is perhaps not as thorough as after reading the literary heritage itself, but what you get from the play are all the greatest hits. Some of them even in slow motion, and they throw in some jokes as well.
In the play you get to know all the forty sagas, though some are entwined to speed things along. The versions are short, but to the point, and cover most of the legendary characters from the era, with all their faults and virtues.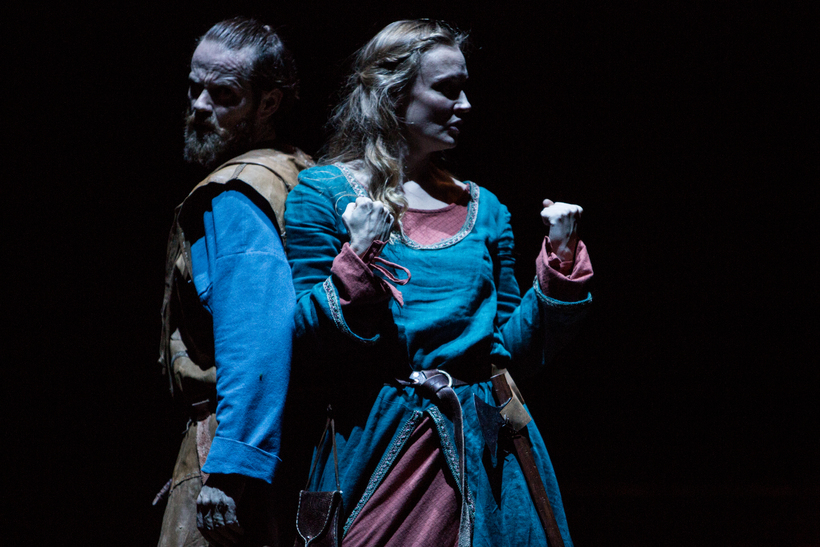 The few women depicted in the Icelandic sagas are all very feisty and their husbands are more often than not, no match for them. Photo: Lilja Jóns
Fantastic tales of feisty women, Vikings, murders and insults
The sagas are the jewels of Icelandic culture. Some countries have palaces and pyramids, Icelanders have their stories written on calf skin hundreds of years ago. They are fantastic tales of feisty women, brave and foolish men, and blood feuds over trivial things that are passed down generations as two families hack at each other. There are tales of ordinary Vikings, facing ordinary Viking problems – such as how to get your wife to stop killing your neighbour's slaves, what to do when someone calls you a horse-ass-eater, and how to sue your brother-in-law for not living up to your sister's... expectations.
The play will be on almost every day of the summer in Harpa Concert and Conference Hall, the distinguished Reykjavik landmark. For further information click here.