Culture and Living
|
Iceland Monitor
|
Fri 29 Apr 2016
|
23.47 GMT
|
Modified 30 Apr 2016 0.26
Sigourney Weaver is in Iceland- and meets a little Icelandic girl named Ripley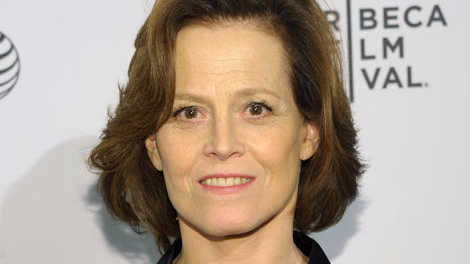 Icelandic filmmaker Ragnar Hanson is a huge Sigourney Weaver fan and named his little daughter Ripley in honour of the female protagonist of the Alien film series. Photo/ AFP
Numerous reports claim that actress Sigourney Weaver is currently in Iceland, and no report is sweeter than the one by film maker Ragnar Hanson who met Weaver by chance in downtown Reykjavik yesterday and made a date with her to meet his little daughter- Ripley.
Hanson, wrote a Facebook post this evening recounting his strange day of coincidences. His friend Hugleikur Dagsson, writer, comic artist and film buff, wrote him a message asking whether he knew that Sigourney Weaver was in Iceland and that she'd been spotted at a hair dressing salon in downtown Hverfisgata.
"For those who don't know it, Sigourney played the legendary female heroic role of Ripley in the Alien movies, a hero that we named our older daughter after."
Hanson's daughter Ripley is the only Ripley in Iceland, having passed Iceland's famous naming committee, the committee responsible for ruling on permissible Icelandic first names. Ripley passed as it is conjugated in the same manner as classic Icelandic girl's names such as Laufey.
"I freaked out and wrote a status on Facebook to see if anyone had spotted her. Half an hour later I was walking up Laugavegur and scanned the street careful just in case that I saw our hero. And guess what, I spotted her on the other side of the street in front of the Mál og Menning bookshop, hidden under a pair of sunglasses and a hat. I froze, but then mustered up the courage to run up to her.
"Ms Weaver? Sorry to bother you. I am a huge fan. I'd like to show you something."
I grabbed my phone and showed her a photo of my daughter and told her the whole story, about how my wife and I were huge fans of the movies and the character and explained the naming committee and everything. "
Hanson then asked Weaver whether there was any chance that Ripley could meet her before she left Iceland. "She was incredibly nice and interested and said, of course and we scheduled a meeting for 4 pm today. I then picked Ripley up from her playschool and told her proudly that we were going to meet "Big Ripley, from the movies. She was very excited but didn't understand anything. She woke up excitedly this morning and drew "Big Ripley" a picture.
"She wasn't as excited as her parents, who finally took her to meet our hero along with her big brother Hrappur and her little sister Akira. And there she stood, at 4 pm, the star of Alien herself, smiling at her little Icelandic namesake. Ripley gave her the drawing and on top of all this, Weaver had a card ready for Ripley.
"Dear Ripley.
I am delighted to meet you, named after a character I loved.
I wish you all the best and I know you will bring your best to whatever you do - as Ripley does!
Much love,
Your Alien godmother
Sigourney"
Hanson concludes his Facebook post with the following words:
"Mind. Blown. Thank you, dear universe."
The Facebook post in Icelandic with photos of little Ripley and Sigourney Weaver is below.