Culture and Living
|
Iceland Monitor
|
Sat 13 Feb 2016
|
10.00 GMT
|
Modified 29 Apr 2016 11.43
Lord Byron's grandson fell in love with a 16-year-old Icelandic farmgirl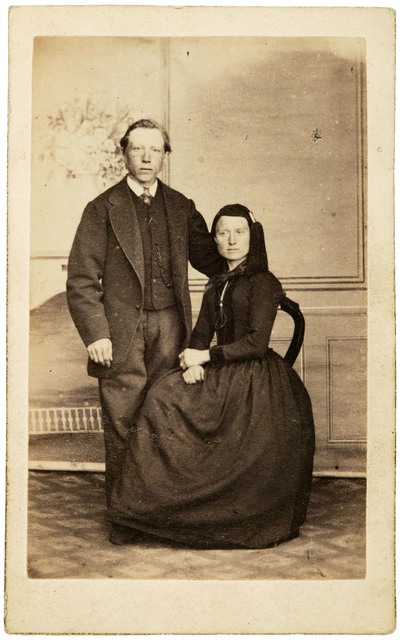 Guðný Halldórsdóttir from Grenjaðarstaður and her husband Benedikt Jónsson from Auðnir. The Earl of Lovelace fell hopelessly in love with the young woman but she was already betrothed at the time to her future husband. Photo from the National Museum of Iceland
In the autumn of 1861, Ralph Gordon Noel, a 22-year-old English traveller proposed to a 16-year-old girl from the farm Grenjaðarstaðir in Aðaldalur, North Iceland. If the girl had accepted the proposal, she would have become an English countess, as the man in question was the grandson of romantic poet Lord Byron.
It is considered very likely that the girl, Guðný Halldórsdóttir knew that her suitor was a nobleman of famous lineage. However, she was already betrothed to her love Benedikt Jónsson, a man whom with she would later form one of the most famous cultural homes of Iceland. That home was Auðnir in Þingeyjarsýsla, North Iceland, the home of the Þingeyingar literary club, founded by Jónsson.
The couple had five daughters, with the best-known being author and poet Hulda.
Grenjaðarstaður was a large farm and many people stopped there on their travels. Upper-class foreign tourists stayed there reguarly, including English designer and poet William Morris and the French explorer Paul Gaimard.
Fell hopelessly in love with the young woman
But in that autumn of 1861, English nobleman Ralph Gordon Noel (1839-1906) knocked on the front door of Grenjaðarstaður farm. He had a keen interest in Icelandic culture and travelled around the country alone. Noel had tripped up hiking in the north and broken his leg, and had been sent to the farm for recuperation.
It was the young and lovely Halldórsdóttir who tended to him, and soon the nobleman fell head over heels in love with her. But she was already engaged, and in love, and refused him.
In 1862 a British vicar visited Iceland, a noted writer named Sabine Baring-Gould who wrote about his visit in his memoirs. In these memoirs he remembers having encountered Noel at Þingvellir, when he was on his way back to England. Baring-Goulds writings are somewhat pompous and derogatory of Icelanders.
"The girl was attractive but not beautiful," writes Baring-Gould who had previously visited Grenjaðarstaðir. "She was under the charm of a peasant boy who had looked after my horses. I had observed the boy scratching himself all over his body and assumed it was well populated," he adds, implying that the young man was infested with lice.
"If she had realised what her future as a countess would have been like, she might have refused the stable-lad. But would this weed have become happier in different soil?"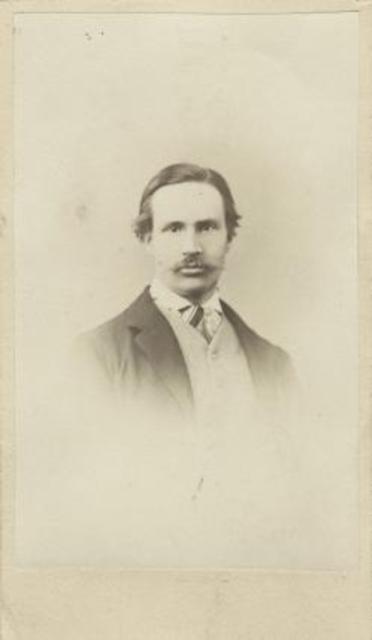 Ralph Gordon Noel, who became the Earl of Lovelace. He was the grandson of Lord Byron. Photo: Wikipedia
Son of Ada Lovelace, the world's first computer programmer
Baring-Gould also informs his readers that he knew Noels family quite well. He was the second oldest of the sons of the Earl of Lovelace. His eldest brother, Lord Ockham was a strange man who despite his noble title had worked as a harbour worker in Chatham. When he died, Noel became a Count and then Earl of Lovelace. Noels mother, Ada Countess of Lovelace (née Byron , the daughter of Lord Byron, was renowned for her mathematics skills chiefly known for her work on Charles Babbage's early mechanical general-purpose computer, the Analytical Engine. She is often regarded as the world's first computer programmer.
A happy marriage in Iceland
The marriage of Halldórsdóttir and Jónsson was a happy and prosperous one. In an obituary written about her by Jónas Þorbergsson he says that she was a most kind person, both to people and animals. Her husband later became a very popular county officer, librarian and politician. "He was the most optimistic hero of all of the county," writes Þorbergsson.
On the other hand, Ralph Gordon-Noel, Earl of Lovelace had no further connection with Iceland in his life. Due to his family's wealth he didn't have to work and spent his life skiing in the Swiss Alps, listening to classical music, collecting fine art and had an avid interest in literature.