Politics and Society
|
Iceland Monitor
|
Wed 21 Aug 2019
|
12.22 GMT
|
Modified at 12.46
Climate Number One at Nordic Meeting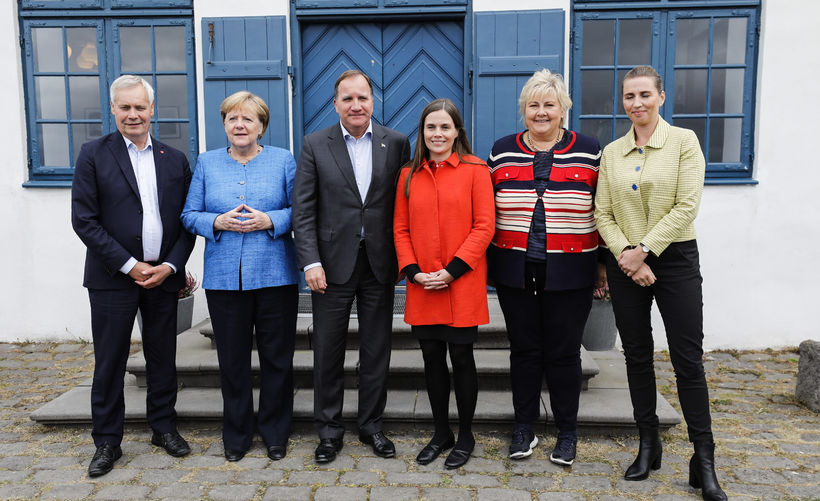 On Viðey island. From left, Finnish PM Antti Rinne, German Chancellor Angela Merkel, Swedish PM Stefan Löfven, Icelandic PM Katrín Jakobsdóttir, Norwegian PM Erna Solberg, and Danish PM Mette Frederiksen. mbl.is/Eggert Jóhannesson
Climate issues were at the top of the agenda at a meeting of prime ministers of the Nordic countries in Reykjavík yesterday. At the meeting, held at Harpa concert hall, the prime ministers approved a new ten-year vision for the Nordic Council of Ministers, Morgunblaðið reports.
"The Nordic countries have a chance to globally take the lead in climate issues, and we are ready for that role," Icelandic PM Katrín Jakobsdóttir stated in a press release. She welcomed the prime ministers' agreement to aim for the Nordic countries to become the world's most self-sustainable area by 2030.
"It means that action is needed to make actual progress in climate issues, and the prime ministers agreed that deeds are more important than words, and that the Nordic countries could make more progress together, both nationally and in the global arena," Katrín states.
At a press conference on Viðey island, following the leaders' lunch meeting, along with German Chancellor Angela Merkel, Danish PM Mette Frederiksen noted that the world is changing fast and that being united is most important for the Nordic countries. "All the Nordic countries agree on a stronger relationship between the northern part of Europe, Scandinavia and Germany."
In her address, Merkel stressed the importance of everyone contributing in the fight against climate change. She stated that the leaders had discussed democratic challenges in times of globalization. She emphasized the unbreakable ties between European nations, regardless of whether or not they are EU members.
Swedish PM Stefan Löfven stated that in September, the Nordic countries ought to bring common goals and messages to the United Nations climate meeting in New York.
The Nordic nations signed an agreement on climate issues at Harpa concert hall yesterday morning. In addition to the prime ministers of Iceland, Norway, Sweden, Denmark and Finland, the agreement was signed by representatives from the Åland Islands - an autonomous region of Finland - the Faroe Islands and Greenland.
The agreement is between the countries' prime ministers and the CEOs of various Nordic companies, and has to do with actions to be taken with regard to climate issues. Representing Icelandic companies were Árni Oddur Þórðarson, CEO of Marel, and Birna Eiríksdóttir, director of Íslandsbanki bank.
"It is essential for the public and private sectors to unite in these matters," stated Frederiksen.