Politics and Society
|
mbl
|
Fri 1 Dec 2017
|
12.08 GMT
|
Modified at 12.36
"Weird that I'm only the second woman"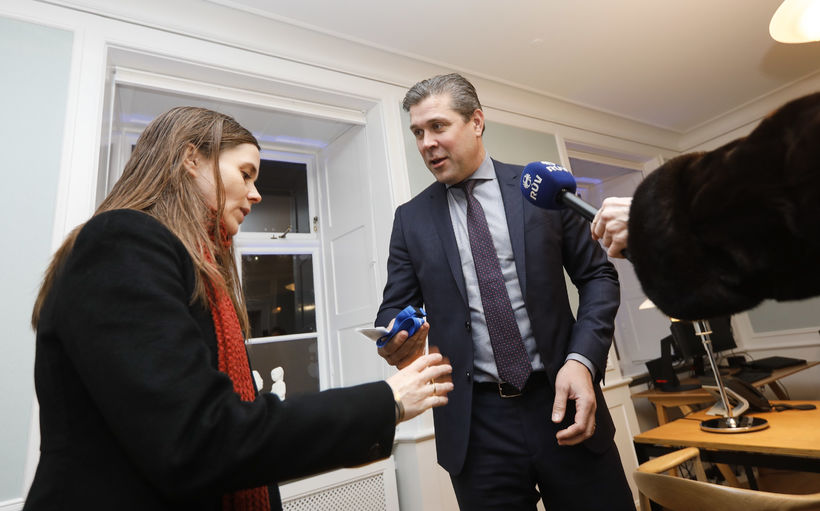 The new Prime Minister, accepts the keys to the Prime Ministry from the ex Prime Minister Bjarni Benediktsson who now takes on the role of Minister of Finance. mbl.is/Eggert
Today, ex PM Bjarni Benediktsson handed over the keys to the Prime Ministry to the new Prime Minister, Katrín Jakobsdóttir.
Jakobsdóttir said to mbl.is this morning that she had plenty to do today, doing the rounds to meet everyone at the Prime Minstry and then on to a government meeting later today to create a financial bill.
Jakobsdóttir is the second woman to become Prime Minister in Iceland and she says she's looking forward to taking on the job. "But it's really weird that I'm the second woman, I should be number fifteen or so. So in fact to rectify this injustice there should really be fifteen women Prime Ministers in a row after me," she said.
Asked whether she had had her eyes on the role for a long time she replied, not really. "But as everyone is aware of I put myself forward for election to lead a government, that was something I stressed before the election, so this is good, it happened."
She added that she had been asked by a foreign journalist about the tradition of handing over the keys to the ministries was an ancient one, dating even from Viking times. "I'm not sure about that, I have to ask around today to see how old this tradition is in fact."
Benediktsson, the former Prime Minister, is not going very far however, as today he will be handed the keys to the Ministry of Finance to become the next Financial Minister of Iceland.
He told mbl.is that he was happy to hand over the office to Jakobsdóttir. "I am enormously optimistic and very happy to see Katrín here in this office." He admitted to some mixed feelings at leaving the post but that he was excited to return to the Ministry of Finance. "I know the job very well and the people there so I'm excited about the future."