Politics and Society
|
Iceland Monitor
|
Sat 28 Oct 2017
|
23.51 GMT
|
Modified 1 Nov 2017 11.33
Iceland Elections: Government parties lose, Social Democrats gain, two new parties to enter parliament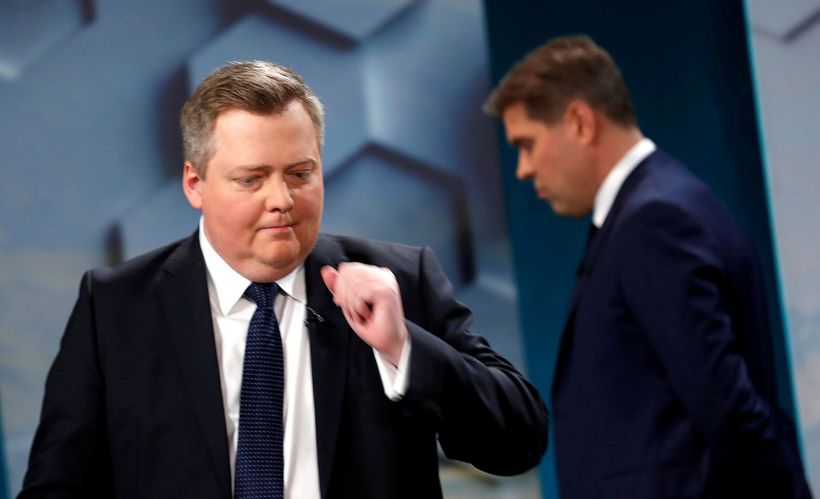 Former Prime Minister Sigmundur Davíð Gunnlaugsson has made a comeback with his new Center Party. Incumbent Prime Minister Bjarni Benediktsson, leader of the Independence Party in the background. Iceland Monitor/Eggert Jóhannesson
Now that all constituencies have reported their first vote count results in Iceland's parliamentary elections it is clear that the parties that made up the right-of-center coalition government have lost majority in Iceland's parliament. This comes as a no surprise as all opinion polls published prior to the elections pointed to these results.
MORE: Live updates of the vote count as more results are reported.
Government coalition parties lose majority
The incumbent coalition government had the slimmest possible majority, or just 32 seats in Iceland's 63 seat parliament. According to the initial results, the Prime Minister's Independence Party so far seems to be loosing four of its 21 seats, but retains its position as Iceland's largest political party with 26.8% of the votes counted.
The other two coalition partners are losing seats. The Reform Party has currently received 6.7% of the votes, compared to 10.5% last year. The third coalition Partner, Bright Future is set to loose all its parliamentary seats and receives only 1% of the votes.
Left-Green Movement and Social Democrats gaining
The Social Democratic Alliance seems to be making a strong comeback with 12.2% of the votes, a significant increase from last year's elections where it received only 5.7%. The Left-Greens are also gaining with 16.2% of the votes so far, compared to 15.9% in last years elections and is still the second largest party in parliament.
The Progressive Party loses seats
The 101-year old Progressive Party is losing seats with 10.4% support, but not nearly as much as the latest polls predicted. In light of a recent rift in the Progressive Party, with many party members joining the newly formed Center Party, among them two former government ministers, the Progressives are seeing a relatively strong turnout according to these first results.
The newcomers: The Center Party and the People's Party
The Center Party, a new political party founded by former Prime Minister and Progressive Party leader just weeks before the elections, is coming in with 11% of the votes counted. According to these initial results, the Center Party is on track on becoming Iceland's fourth largest political party.
The People's Party is set to enter parliament with 6.8% of the votes counted. This is a far better outcome than most polls leading up to the elections predicted.
Pirates loses half of its parliamentary seats
The Pirate Party that rattled the political landscape last year by winning 14.5% of the votes seems to have lost a third of its support according to these first vote count results that show the Pirates winning 8.7% of the votes.
Other parties have received less than the 5% of votes needed to win seats in Iceland's parliament.
These are just the initial vote count results. View Iceland Monitor's election page for live vote count as more results are reported.