Politics and Society
|
mbl
|
Fri 15 Sep 2017
|
7.18 GMT
|
Modified at 14.55
Iceland's government collapses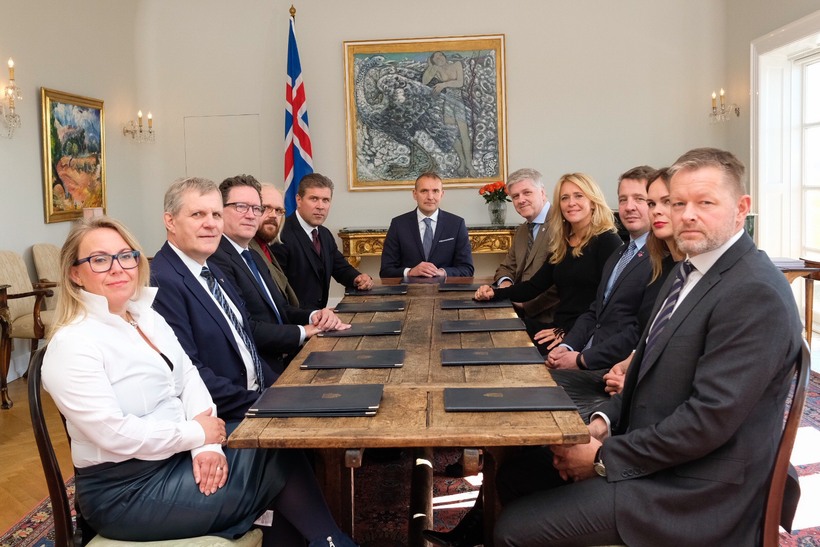 The current government, which has just collapsed. Elections will most likely take place as soon as possible. mbl.is/Kristinn Magnússon
Leaders of the Bright Future Party have ended their coalition with the Independence Party and its PM Bjarni Benediktsson. The reason: A serious breach of trust within the government.
This was announced to the media shortly after midnight last night. Yesterday it was revealed that the father of PM Benediktsson signed a letter of recommendation so that Hjalti Sigurjón Hauksson, a convicted pedophile, would receive what in Iceland is called "restored honour," a legal clause within the Icelandic judicial system which allows a person who has served their sentence for a serious crime to "restore their honour" thus being once again being able to seek employment. Letters of recommendation are required for this procedure.
Apologizes for writing the letter of recommendation
Already, this archaic clause has received a lot of criticism in media and within the public this summer when it appeared that Robert Downey, another pedophile, had received restored honour. Earlier this month it was revealed that another pedophile, Hauksson ,who was convicted of raping his stepdaughter almost on a daily basis from the age of five until she was seventeen, also received restored honour. What was not known, however, until yesterday, was that one of the three people who recommended this restored honour for Hauksson, was father of the PM, Benedikt Sveinsson.
Sveinsson released a press statement yesterday to apologize for the letter of recommendation, saying that Hauksson had brought him an already written letter which he signed. Sveinsson further stated: " I have never considered the restored honour as anything except a legal procedure making it possible for convicted criminals to regain some civil rights. I did not think of it as something that would justify Hjalti's position towards his victim. I told Hjalti to face his action and to repent." The statement ended with the words: "What was supposed to be a small gesture of good will towards a convicted criminal has instead turned into a continuation of the tragedy for the victim. For this I again apologize."
Prime Minister knew of his fathers involvement in July
It was furthermore revealed yesterday that Prime Minister had been aware of this fact since July, when Minister of Justice Sigríður Andersen, also from the Independence Party, told him.
Bright Future released the following statement last night: The party met yesterday when we received the news that Benedikt Sveinsson, father of Prime Minister Bjarni Benediktsson, wrote a letter of recommendation for convicted pedophile Hjalti Sigurjón Hauksson.
"This was the last straw," said Guðlaug Kristjánsdóttir, chairman of Bright Future .
Viðreisn, the Restoration Party has called for new elections as soon as possible.
Iceland Monitor will be updating these news as they progress during the day.