Politics and Society
|
mbl
|
Fri 25 Aug 2017
|
12.40 GMT
Reykjanes locals outraged over United Silicon pollution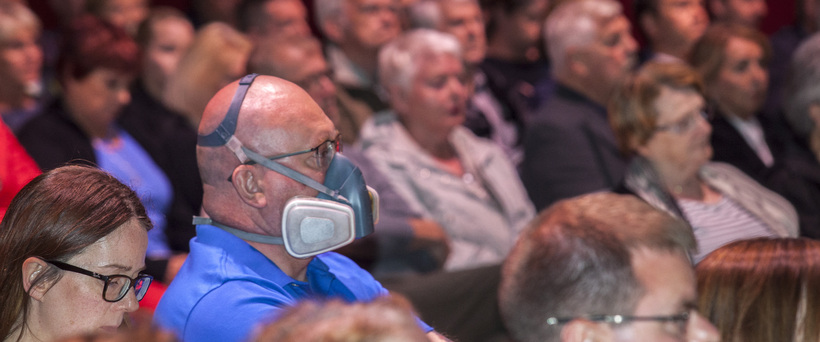 Crowds attended the meeting of Reykjanes locals last night. One of them wore a mask to state his point. Photo/Víkurfréttir
"I couldn't care less about billions and millions," said Eygló Anna Tómasdóttir, inhabitant of Reykjanesbær at a meeting of locals last night to discuss pollution from the United Silicon plant. "We're going to stop this plant whatever the cost."
"We're going to bury this plant," said another, at the meeting of a group calling themselves Opponents Against Heavy Industry in Helguvík. The group are starting a crowd funding effort on Karolina Fund to raise money to sue United Silicon.
United Silicon, a silicon plant located in Helguvík on the Reykjanes peninsula in South Iceland has come under fire in recent months. United Silicon operates one large 32 MW furnace with a yearly production capacity of 23.000 tonnes of silicon.
Locals have filed hundreds of complaints due to a bad smell eminating from the plant and it is still not clear what chemicals are causing the smell although the Environmental Agency of Iceland has confirmed that the smell does indeed originate at the plant. Findings as to which chemicals are in the air are expected at the end of August.
In January, news outlet Stundin published a video of United Silicon releasing toxic material during the night.
Locals complain of having a sore throat, their eyes being red and watery, their nose feeling dry and also complain of lung trouble. "People have to shut their windows, wipe their cars for dust every morning and parents are hesitant in letting their children play outside or putting prams outside for their babies to sleep," said local Rúnar Lúðvíksson at the meeting.
Kristinn Jakobsson, council member for the Progressive Party said at the meeting that if the silicon plant was shut down it would have an adverse effect on the community' s economy.
Among the spokespeople last night was prominent writer and environmental activist Andri Snær Magnason who spoke of "the greatest fiasco in an industrial area in Western Europe: an unfinished aluminium plant, a silicon factory messing up and another even larger silicon factory on the cards." Another silicon company, Thorsil is planning to build another silicon factory in Helguvík and yet another is intended for Bakki, North Iceland.
A journalist for mbl.is attended the meeting last night and it was clear that the matter weighed heavily on locals. One person asked whether clean air wasn't a human right anymore. Other people stood up to speak of the effects of the pollution on their health. "We need to know what this is doing to our health," said María Magnúsdóttir. "We're all suffering from all kinds of symptoms but we don't know what exactly this is doing to us."
Heart surgeon Tómas Guðbjartsson spoke at the meeting of Norwegian research on the effects of silicon factories on people's health. "As a doctor I'm telling you, silicon factories are everything but beneficial to your health." He said that evidence pointed to the fact that inhabitants were breathing toxic air. "And you should not accept that."
A young man spoke of locals "being fooled as the company had promised environmentally friendly production."
Another man spoke of having to shut his windows and calling the children inside when the smell is at its worst. "It's sad that the children keep having to blow their noses. I had wished that this plant could have worked out, but it didn't. If they go ahead with increasing their production I ask god to help us."
United Silicon began silicon production in Helguvík in November last year and has faced numerous issues since opening, including a fire. They started off using one furnace and are intending to increase that to four furnaces. "If they use four furnaces it will be the largest silicon factory in the world," said Andrí Snær Magnússon. "And who on earth has the idea of putting such a factory next to playschools and homes?" He pointed out that the smell is not the worst thing."It's the only thing our bodies can detect. It's the invisible substances that will hurt us over time."
Representatives of the Environmental Agency were at the meeting but could not give straight answers as to whether the plant would be shut down. Sigrún Ágústsdóttir at the agency said this would become clear next week. Locals at the meeting were not content with this reply.
"The pollution is more than expected," said Ágústdóttir. "We're still waiting for results." She added that Thorsil would be using another method in their silicon factory and therefore the environmentally agency was not particularly looking into them. "We don't believe that this wil happen to the company next door." She added that there were no legal criteria in revoking the licence for United Silicon.
A local said that it was surreal having to wake up every day thinking about whether the furnace was burning at full strength or not.
Kristinn Þór Jakobsson, district council chairman for the Progressive Party said that United Silicon owed the community 162 million ISK already and that closing down the plant would have a substantial effect on the municipal treasury as well as the financial status of Reykjanes harbour.
Friðjón Einarsson, city councellor for the Alliance Party replied, "When we discuss the health of our locals, money doesn't matter. That's why the majority of the council has agreed that we will have no more heavy industry in Helguvík."