Politics and Society
|
Iceland Monitor
|
Fri 10 Mar 2017
|
13.15 GMT
Famous musician protests lack of road repairs
Roads and road conditions is what Icelanders have been gritting their teeth over during the last week. Benedikt Jóhannesson Minister of Finance recently declared that the government would drop planned road repairs, much to the dislike of locals.
The road that lies along Berufjörður is the only part of the nr.1 ring road that is a gravel road, described by a local that it looks like it belongs in a third world country. The locals have protested twice by closing the road. The second time the board of the local municipality held a meeting on the single-lane bridge, closing it off.
Svavar Pétur Jóhannsson is one of Iceland's prominent musician, known as Prins Póló. He is also a farmer and lives in the area. He has been up-front in the protests. He points out that the road is decades behind the rest of the Icelandic road system.
"I think the minister should go for a drive and visit us, and find out on his own skin how mad it is leaving the road unfinished for decades."
The minister has declared that protests won't affect his decision, which has fuelled the protests even more.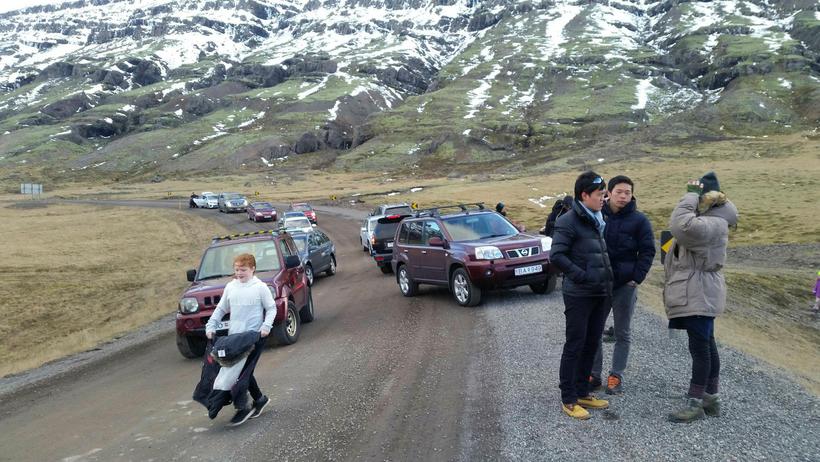 Some people were delayed on their journey because of the protest. Photo: Iceland Monitor/Ásdís Ásgeirsdóttir
The South part of the West Fjords not easily accessible
There have also been protests in the West Fjords. The road to the south part of the West Fjords lies over high and steep mountain passes, and it's a gravel road. Locals have pointed out that it's too dangerous to be acceptable in modern Icelandic society.
The area is a popular tourist destination, with pearls of nature such as Látrabjarg and Rauðisandur. People involved in tourism industry in the area are particularly unhappy as the bad road affects their business.
This video was recorded by Gísli Einar Sverrisson from Patreksfjörður to show the condition of the road through Gufudalssveit.