Politics and Society
|
Iceland Monitor
|
Mon 30 Jan 2017
|
21.09 GMT
|
Modified at 22.09
Icelandic President invites Syrian refugees to his official residence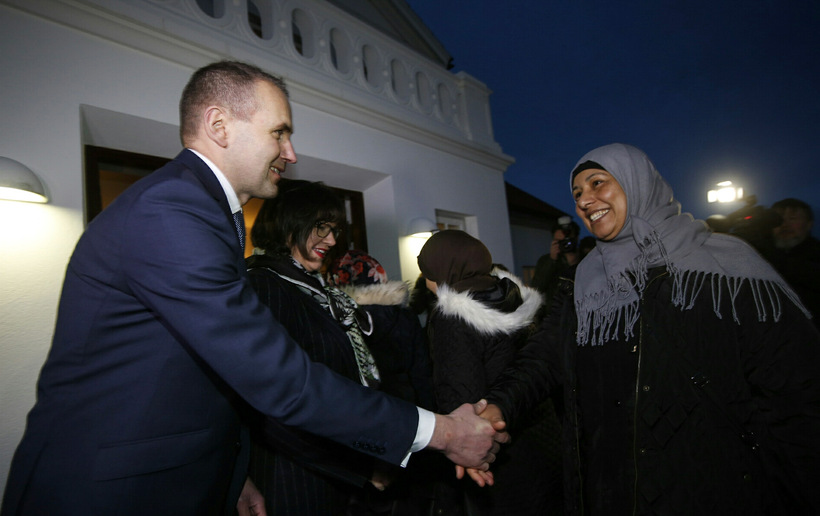 President Jóhannesson offered a heartfelt welcome to Syrian families who are about to settle in Reykjavik and Akureyri. His wife, First Lady Eliza Reid is on his left hand side. mbl.is/Eggert Jóhannesson
Five Syrian families, part of a new group of Syrian refugees invited by the Icelandic Government to settle in Iceland were received by President Guðni Th. Jóhannesson this afternoon. The President told them that Iceland wanted to show compassion, tolerance and an open mind.
"Icelanders cannot save the world. We cannot receive everyone fleeing their homes and powerful nations have to take action for peace in areas of war. But we can however do our bit by offering a secure shelter and by improving our society in showing compassion, tolerance and an open mind."
President Jóhannesson quoted former US President Franklind D. Roosevelt, and said we have nothing to fear except fear itself. and then welcomed the group to Iceland.
"In Iceland we defend human rights: equality of the sexes, freedom of speech, freedom of religion, freedom of travel and last but not least freedom from fear. I welcome you with all my heart to Iceland."