Politics and Society
|
mbl
|
Wed 11 Jan 2017
|
10.57 GMT
|
Modified at 14.35
Presenting Iceland's new government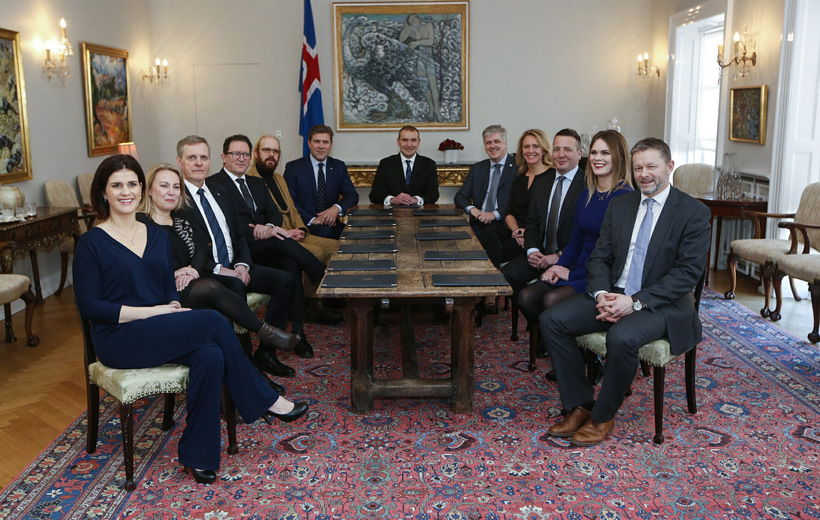 The new government of Iceland at the Bessastaðir Presidential residence earlier today. Iceland Monitor/Eggert
Anna Margrét Björnsson


Here's a look at Iceland's new government, a coalition between the Independence Party, The Reform Party and Bright Future.
In the general elections in October, Iceland's Independence Party got the largest number of votes, 29% which is a better outcome than polls predicted. The Pirate Party despite the favourable polls seemed to lose supporters at the ballot box and ended up with 14.5% of votes. The Reform Party (formerly named Regeneration by Iceland Monitor) received 10.5% of votes and 7 MPs thus becoming a new political party in Parliament. Bright Future received 7.2% of votes and 4 MPs, losing two MPs since the last election.
Colation talks took place between various parties and it's taken almost three months to form a new government.
Bjarni Benediktsson will be the new Prime Minister of Iceland. Benediksson has been the leader of the Independence Party since early 2009. He first came into the limelight as a promising football player for Stjarnan and began his political career in the early nineties. He is a former lawyer and was chairman of the board of N1 and BNT before Iceland's economical crash. His name was in the Panama Papers due to his connection to an offshore account.
Benedikt Jóhannesson will become the Minister of Finance. He formed the Reform Party (Viðreisn) when a group of people within the Independence Party who were pro- EU became frustrated with the party. A mathematician and investor, Jóhannesson also owns a publishing company, Heimur, which publishes magazines such as Iceland Review.
Óttarr Proppé will become Iceland's Minister of Health. He first rose to fame in an entirely different field however, as the singer for heavy metal band HAM and singer of punk rock group Dr.Spock. He even took part in the preliminaries to the Eurovision song contest in Iceland with a band called Pollapönk. Proppé began his political career in Besti flokkurinn (The best party led by former Mayor Jón Gnarr for the Reykjavik City Council and formed part of the City Council until 2013. He was voted leader of Bright Future in 2015.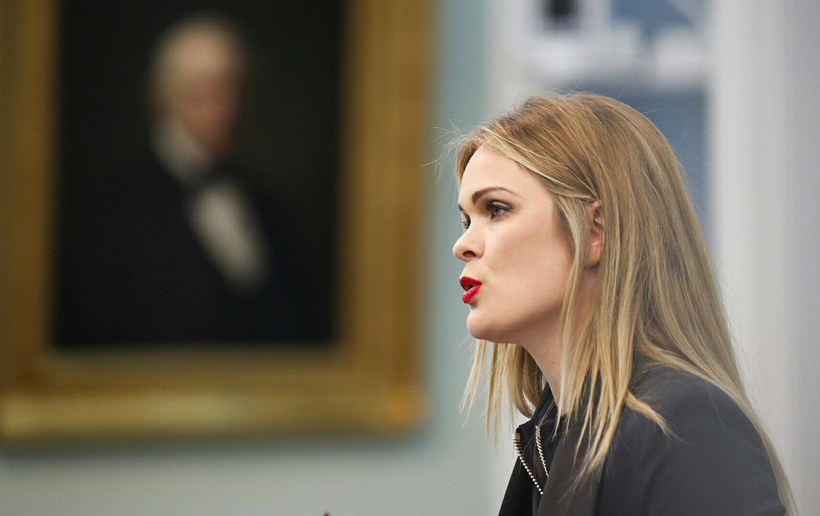 Björt Ólafsdóttir, Minster for the Environment and Natural Resources Iceland Monitor/Eggert Jóhannesson
Björt Ólafsdóttir will become Minister for the Environment. She was elected to Parliament for Bright Future in the general elections in 2013. She formerly worked in the human resource departments of Vinun and Capacent as well as becoming director of Geðhjálp, an association for mental illness in Iceland from 2011 to 2013. She caused an international stir for her participation in the "free the nipple" revolution in Iceland two years ago and is a well known feminist.
Guðlaugur Þór Þórðarsson will become Minister of Foreign Affairs. He has been an MP for the Independence Party for 14 years and previously he was a member of the Reykjavik City Council from 1998- 2006. He was Minister of Health from 2007 until 2009. He faced criticism when it came to light that the polical parties were collecting large sums of money as grants from companies after Parliament accepted new laws against such grants but before they were applied.
Kristján Þór Júlíusson will become Minister of Education. He has been a mayor in several towns in Iceland including Ísafjörður, Dalvík and Akureyri. He was elected to Parliament in 2007 for the Independence Party and was Minister of Health until the last election.
Þorgerður Katrín Gunnarsdóttir will become the Minister of Fisheries and Agriculture. She was an MP for the Independence Party for fourteen years from 199 to 2013 and deputy leader of the Independence Party from 2005 to 2010. She was director of the social media and entertainment department at the Rúv national broadcasting service before becoming an MP. She joined the Restoration party a few months before the general elections. She faced some criticism after Iceland's economic crash due to heftly loans received by her husbands company from an Icelandic bank for which he was working.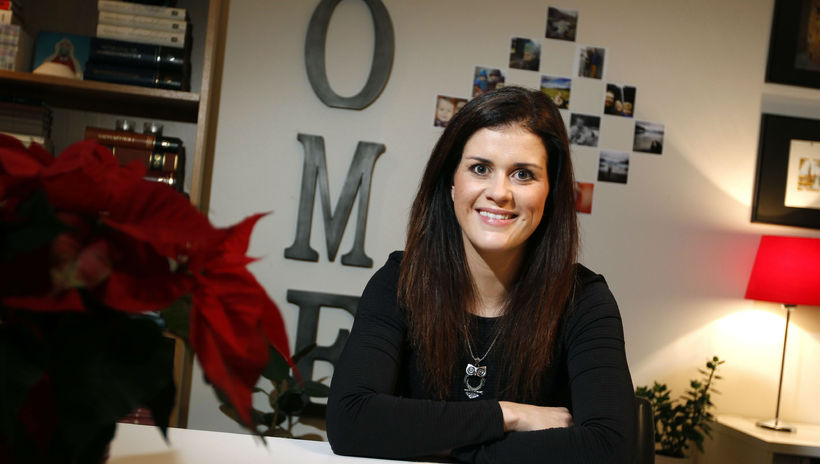 Þórdís Kolbrún Reykfjörð Gylfadóttir, Minister of Tourism, Industry and Innovation. Iceland Monitor/Golli
Þórdís Kolbrún Reykfjörð will become Minister for Tourism, Industry and Innovation and she is a new MP at Parliament. She was assistant to the Minister for the Interior over the last couple of years and served as managing director of the Independence party group. She is the youngest Minister in the new Parliament.
Þorsteinn Víglundsson will become Minister for Social Affairs. He was managing director for SA-Business Iceland for three years before joining the Restoration party. He was managing director for the association of Icelandic Aluminium factories from 2010 to 2013 and managing director of cement company BM Vallá for eight years.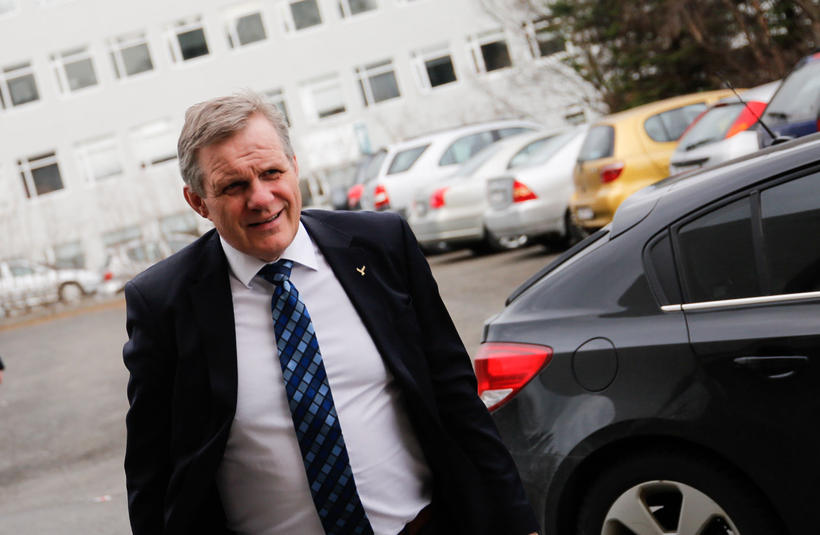 Jón Gunnarsson, Minister of Transportation, Communication and Local Government Iceland Monitor/Eggert
Jón Gunnarsson will become Minister of Transportation, Regional Development and Municipal Affairs. Gunnarsson has been a member of Parliament for almost a decade for the Independence Party. He was the vice chairmain of Parliament's Industrial Affairs Committee, which received criticism for power plants in Iceland. Previously he was a farmer and as the managing director for the Icelandic associtation of rescue teams, IS - SAR.
Sigríður Andersen will become Minister of Justice. She became an MP for the Independence when she stepped into the position of MP Pétur Blöndal who passed away. She has been a deputy MP for several years and previously worked on the editorial board of Vefþjóðviljinn.
Our bio's are based on information from RÚV national broadcasting service.
Below you can read the entire Platform of the Coalition Government formed by the Independence Party, the Reform Party and Bright Future in English.