Politics and Society
|
Iceland Monitor
|
Fri 25 Nov 2016
|
11.22 GMT
President will not give a third coalition mandate
Icelandic President Guðni Th. Jóhannesson has rejected the suggestion that Iceland is facing a crisis of goverment, despite two failed attempts at forming a working majority.
Speaking at a press conference just now at the presidential residence at Bessastaðir, President Jóhannesson told journalists that, following the failure of two successive party leaders to cobble together a coalition commanding a parliamentary majority, he does not for the time being intend to give his official mandate a third time.
Instead, he has spoken with the leaders of all political parties about the current situation and now places in their collective hands the responsibility of negotiating a new government for Iceland.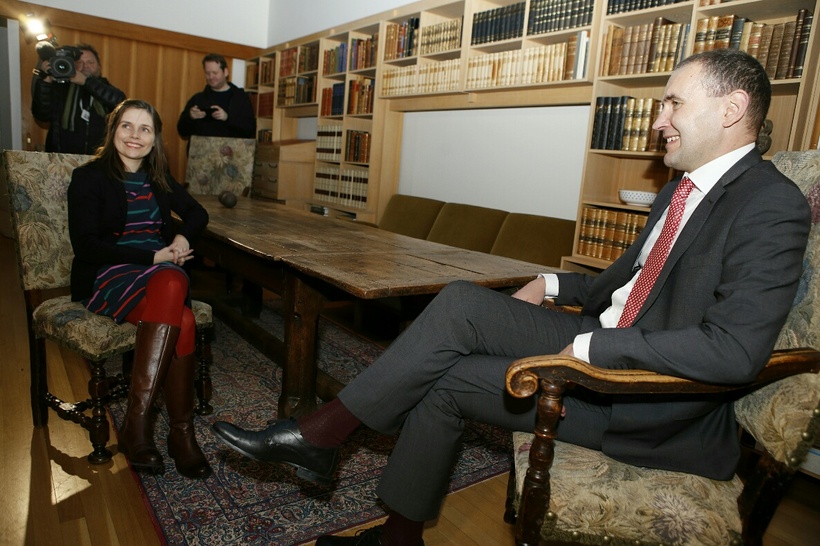 Katrín Jakobsdóttir (left) and Guðni Th. Jóhannesson (right) this morning. Photo: Iceland Monitor/Ófeigur
Jóhannesson was cautiously upbeat about the possibility of Iceland's political parties succeeding over the next few days in clarifying the current situation. It has now been almost a month since Icelanders went to the polls and there is no new government in sight.
"Parliament needs to be convened as soon as possible, and I hope that a new government will be in place when that happens," he said.