Politics and Society
|
Morgunblaðið
|
Thu 10 Nov 2016
|
11.11 GMT
Iceland's largest party may be unable to form government
Leader of Iceland's centre-right Independence Party Bjarni Benediktsson has hinted that he may be unable to cobble together a coalition to rule Iceland and might have to renounce the mandate he has been given to do so.
Just over a week ago, Icelandic President Guðni Th. Jóhannesson officially gave the mandate to form a new majority government to Benediktsson, whose party won the general elections held on 29 October.
Despite talks with all party leaders since then, no new government coalition has been announced.
"There is considerable distance between [party leaders]," Benediktsson told Icelandic national broadcaster RÚV. "But I intend to keep discussions going and see whether or not there is a basis for entering into real coalition talks with other parties."
He told RÚV that the election results have given him a tricky task, given the quick refusal of many key players to work with other parties.
Crucially, it has emerged that the second-placed Left-Green Movement (15.9%) has now rejected any possibility of partnership talks with the Independence Party.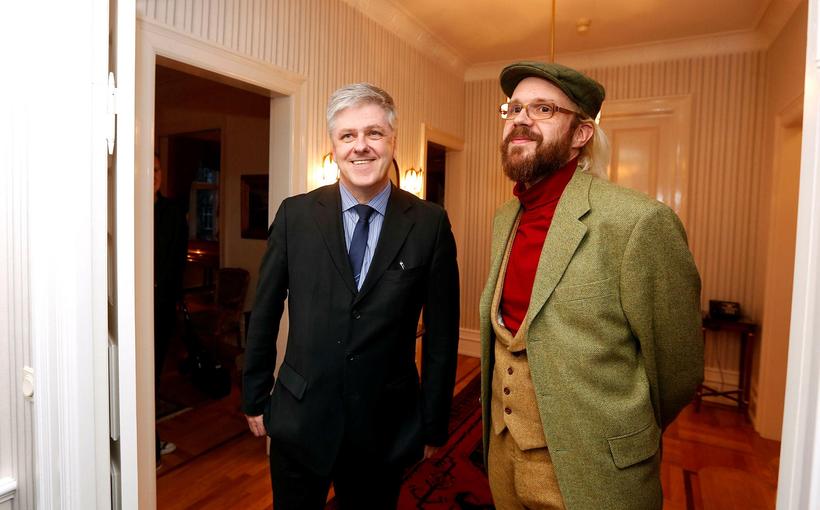 The leaders of Regeneration (left) and Bright Future (right). Photo: Iceland Monitor/Eggert Jóhannesson
Leader of the Left-Greens Katrín Jakobsdóttir is believed to have come under considerable pressure from the party's youth wing and grassroots supporters to reject any talks with either of the two parties of the outgoing government (Independence Party and Progressive Party).
Independence Party MPs met yesterday to discuss the possibility of a coalition with the two centrist parties, Regeneration (10.5%) and Bright Future (7.2%) – to form a government which would just squeak a majority of one (32 out of 63 MPs).
Should Benediktsson conclude that this set-up would not work, his only option would be to renounce his mandate. In that event, it is thought likely that Jakobsdóttir might try to put together a five-party left-centre coalition to rule Iceland.