Politics and Society
|
Iceland Monitor
|
Mon 31 Oct 2016
|
15.15 GMT
Iceland's new 'kingmakers' will not prop up outgoing government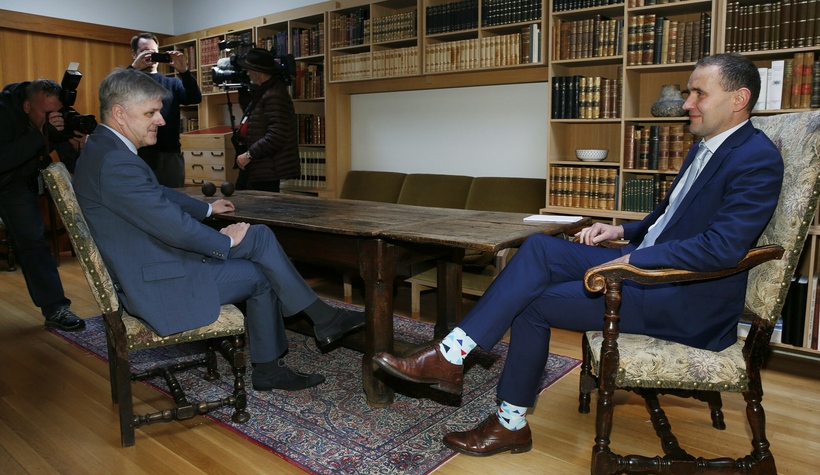 Benedikt Jóhannesson (left) and Guðni Th. Jóhannesson, President of Iceland (right). Photo: Iceland Monitor/Golli
Leader of Iceland's new centrist Regeneration party Benedikt Jóhannesson has confirmed that his party will not agree to ally with the current government and keep them in power.
Journalists grilled Jóhannesson as he made his way to his meeting with the President of Iceland today on the subject of whom Regeneration would be prepared to work with in a new government coalition.
MORE: President sounding out party leaders to give coalition mandate
The party, just a few months old, took 10.5% of the vote in Saturday's general elections, securing seven seats in Iceland's 63-seat national parliament ('Alþingi'). Its good score and its position in the centre of Iceland's tradition left-right spectrum have led commentators to dub the party the new 'kingmaker' in Icelandic politics.
"Regeneration appears to be in a key position when it comes to forming a government," explains Baldur Þórhallsson, Professor of Political Science as the University of Iceland.
"The outgoing government and the traditional parties of the opposition have a similar number of MPs now, meaning things will be determined by whom [Regeneration] decides to talk to."
Jóhannesson told press today that there was only one scenario that he would not countenance – entering a coalition with the current governing parties, the Independence Party and the Progressive Party, thereby keeping them in power. This is not the first time the party has announced this position.
As regards potential coalition talks with other parties, Regeneration are currently playing their cards close to their chest.
Emerging from his meeting with the President, Jóhannesson confirmed that he has formally asked for a mandate to form a "liberal centrist government".