Politics and Society
|
Iceland Monitor
|
Sun 19 Jun 2016
|
10.59 GMT
Iceland celebrates Women's Rights Day today!
19 June is Women's Day in Iceland. The date marks the day 101 years ago when Icelandic women were first given the right to vote.
Iceland took its first step into real suffrage for women on 19 June 1915, when women aged forty and over were given the right to vote in general elections and stand for public office for the first time.
Ever since then, 19 June has been known as 'Women's Rights Day' in Iceland. Many women will be wearing something pink today to mark the occasion.
Since 1882, women had enjoyed limited rights to vote in local elections, but were not permitted to take part in national elections.
The Icelandic parliament ('Alþingi') first passed legislation on equal voting rights for men and women in 1911, but this was blocked by the Danish authorities. Iceland was at this time still part of Denmark, albeit with its own constitution and home rule.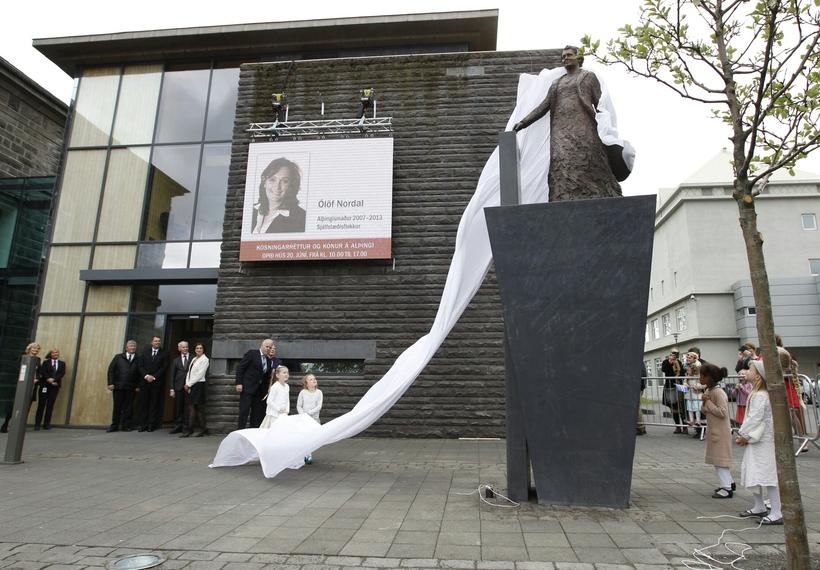 A statue of Ingibjörg H. Bjarnason, Iceland's first ever MP, being unveiled last year. Photo: Iceland Monitor/Golli
The Danish king Christian X finally ratified a law passed by the Icelandic Parliament in 1915, and by 1920 voting rights for women and men were entirely equal. Iceland's first female MP, Ingibjörg H. Bjarnason, was retuned to Alþingi in 1922.
Iceland was one of the first countries in the world to grant women suffrage at national level. Among the countries with legislation before Iceland's are New Zealand (1893), Australia (1902) and Finland (1906).