Politics and Society
|
mbl
|
Wed 6 Apr 2016
|
14.45 GMT
|
Modified 3 May 2016 10.28
What would happen if Iceland voted now?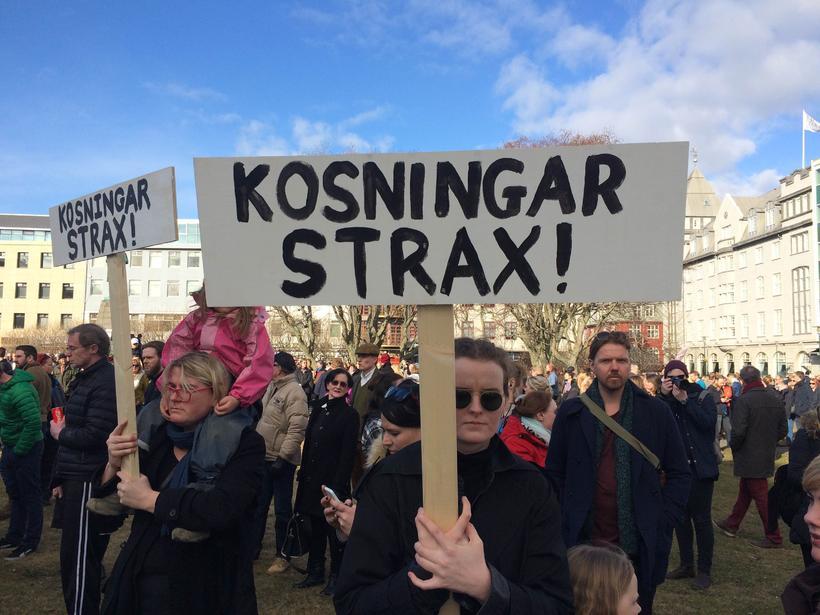 'Elections now!' was the simple demand of these protestors on Monday. Photo: Iceland Monitor/Kristján
Protestors in Iceland have been demanding early general elections – but how would elections, say, tomorrow affect the shape of Iceland's parliament?
The Icelandic parliament is called Alþingi (pronounced 'Althingi'), a democratic institution which can trace its history right back to 930 AD and the first Norse settlers.
63 MPs elected from Icelandic constituencies by proportional representation sit in Alþingi and pass national legislation.
A total of 32 MPs is needed to form a majority government. Representatives of six parties currently sit in Alþingi and the government is a two-party coalition.
Based on the very latest opinion poll reported on this morning, the open-democracy Pirate Party would be the runaway winners, with 43% of the vote.
On the basis of the raw percentages alone, this would give the Pirate Party 29 seats out of 63, a hair's breadth away from an absolute majority. They currently have just three MPs in Alþingi.
In this case, the Pirate Party would have the first crack of the whip at forming a coalition.
Given the numbers of MPs estimated for the other five parties, the Pirates could form a two-party coalition with any of them.
The current fall from grace of the Progressive Party (led by the beleaguered Prime Minister) and the major ideological differences between the Pirate Party and the Independence Party make these two options unlikely.
The Pirates could form a comfortable majority either with the Left-Green Movement (37/63) or the Social Democratic Alliance (36/63).
By contrast, the only possibility of a majority government not involving the Pirates would have to be a four-way alliance of the other four parties – a highly unlikely and unstable prospect. The Bright Future party would disappear from Alþingi according to the lastest poll.
(All MP figures for 2016/17 quoted here are estimates based on raw percentages only.)

The chart below shows the current make-up of Alþingi (after the 2013 elections) and a possible future distribution based on the latest opinion poll. It is not yet clear whether elections will take place early, i.e. 2016, or in 2017 as originally planned.
Hover over the different-coloured little MPs to see exact data.