Politics and Society
|
Iceland Monitor
|
Fri 22 Jan 2016
|
12.30 GMT
Iceland lifts Iran nuclear sanctions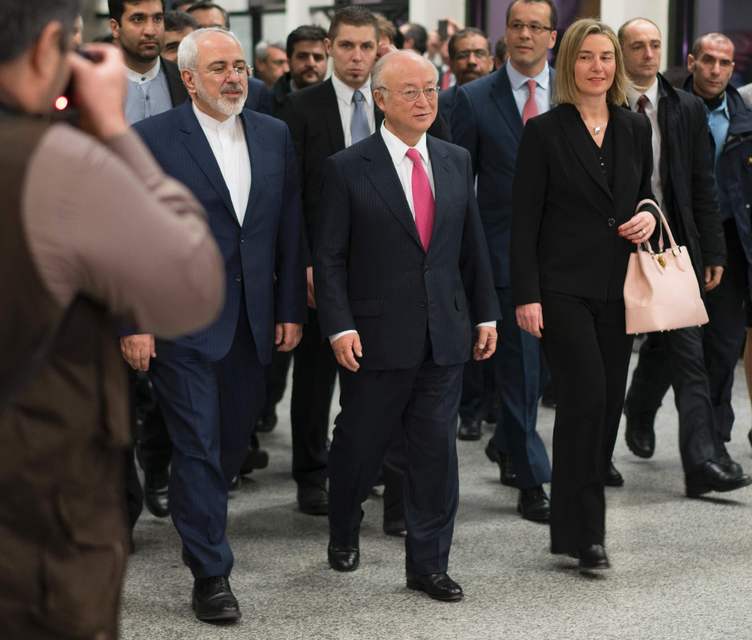 IAEA chief Yukiya Amano (middle), Iranian Foreign Minister Mohammad Javad Zarif (left) and EU foreign policy chief Federica Mogherini (right). Photo: AFP
Iceland has lifted economic and financial sanctions against Iran after the country was given a clean bill of health in the field of nuclear energy by the International Atomic Energy Agency (IAEA).
Icelandic Foreign Minister Gunnar Bragi Sveinsson signed a regulation yesterday lifting all sanctions in place against Iran related to nuclear-energy issues.
The IAEA has recently confirmed that Iran is now in compliance with all of its nuclear commitments. The conditions for such recognition were set out in a Joint Comprehensive Plan of Action concluded last July between Iran, China, the European Union, Russia, and the United States.
"We welcome this milestone, which proves that sanctions can have a real effect on the international scene," says Sveinsson in a Foreign Ministry press release.
"Negotiation and international institutional strength are much more successful ways to resolve disputes than gunfire."
Other Icelandic sanctions against Iran, involving for instance human-rights issues, Iran's support for terrorist activity, and other non-nuclear issues, remain in force.