Politics and Society
|
Iceland Monitor
|
Wed 7 Oct 2015
|
12.36 GMT
Free medication for Hepatitis C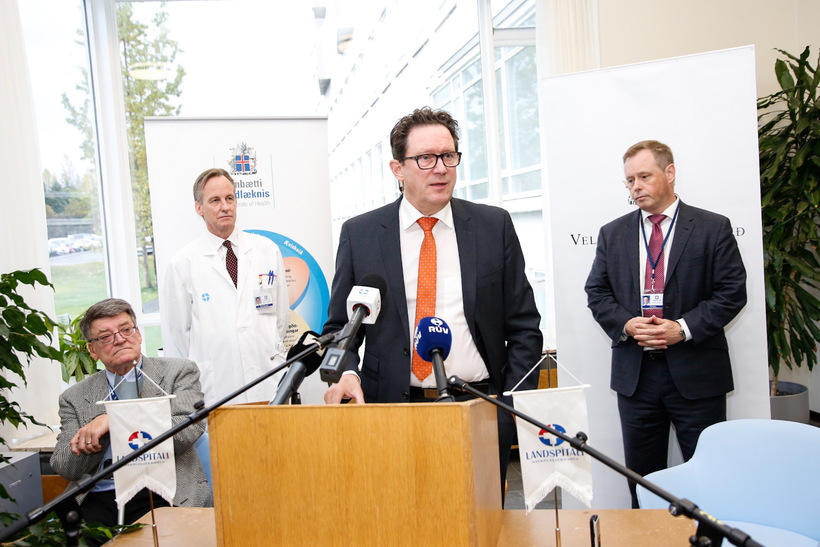 Minister for Health, Kristján Þór Júlíusson at a press conference this morning announced a breakthrough for sufferers of Hepatitis C in Iceland. Mbl.is/Eggert Jóhannsson
Over 1,000 patients suffering from Hepatitis C will be receiving free medication to treat the disease according to a new healthcare campaign announced by Minister for Health, Kristján Þór Júlíusson today.
Today, the government announced that they will be making a contract with pharmaceutical company Gilead, which will provide the Icelandic state with medication for Hepatitis C for 1200 people. Instead the Icelandic healthcare system will research the effects of the medication on patients. Also, everyone who has been diagnosed with the virus in Iceland will receive education, treatment and follow-up treatment. There are appromately 1,000 invididuals in Iceland today who have Hepatitis C, which can be treated with appropriate medication. If left untreated, the disease can cause serious harm to the liver.
"This news means that everyone in Iceland diagnosed with the disease can receive treatment. Research shows that treatment with new and powerful drugs will help almost everyone to recover," said Dr. Sigurður Ólafsson at the department of liver diseases at the National University Hospital. He adds that by treating such a large number of patients they hope to prevent the disease form spreading further in Iceland.