News
|
Iceland Monitor
|
Sun 1 Sep 2019
|
8.05 GMT
Found His Father at Age 29
Ólafur Rowell never felt Scandinavian, despite having an Icelandic mother and a Swedish father. He was interviewed by Morgunblaðið journalist Guðrún Egilsdóttir.
Ólafur was born in Iceland in 1983 to a young mother, who had spent the previous summer in Germany at a summer school. During her stay, she had met a young man from Ecuador, whose name was Francisco Cucalon. After he completed his studies and returned to Ecuador, the young woman began a relationship with a Swedish man, by the name of Magnus Rowell.
After her stay in Germany, the young woman went to Iceland to live with her grandmother. Her parents lived in the US. She soon found out she was pregnant and was convinced Magnus was the father. When told of the pregnancy, he, however, showed no interest in shouldering the responsibility of fatherhood.
Ólafur, therefore, grew up with his mother and his great-grandmother. Once his grandparents returned from the US, they, too, took part in his upbringing.
It was after his great-grandma's death that a letter was found by a relative among her belongings. It was a love letter from a man, studying at the time in Chicago, whose name was Francisco. Enclosed with the letter was a photo of a man, about 20 years old. "When I first saw it, I felt I was looking at myself at that age," Ólafur states, "His complexion was darker than mine, but otherwise, I thought we looked alike." That's when he understood why he never felt Scandinavian. He tans quickly and has brown eyes.
The back of the envelope included a return address, which Ólafur and his female relative discovered was near a university in Illinois. On the university's website, the relative found Francisco's account, written after graduation, about his stay at the university. In it, he stated he would now return to Ecuador to cofound a company, which he named, with his father.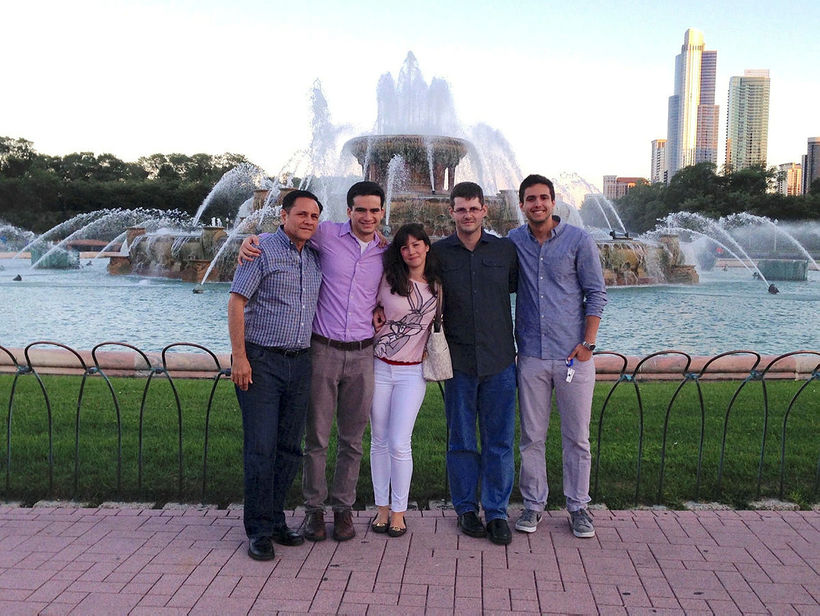 Ólafur, with his Ecuadorian family in Chicago, 2014. From left: Francisco, Ricardo, Sofia, Ólafur and Diego. Photo/Contributed
The relative then contacted the company by email to ask if Francisco Cucalon worked there, which was answered in the affirmative. She then wrote to ask whether he had met an Icelandic woman in Germany in 1982. Francisco responded the following day that he had indeed. Then the relative told him he very likely had a son in Iceland. "The news came as a bit of a shock," Ólafur states, "because he thought he only had three children, all of them in Ecuador, for whom he had cared well."
Ólafur and Francisco began corresponding by email in 2012, when Ólafur was 29. Francisco suggested he stop in Iceland on his way to Europe, so the two could have a DNA test done. Ólafur agreed, and he describes the feeling of finally meeting Francisco as seeing an old friend. The test revealed a 99.999 percent likelihood of the two being related, which is the highest possible likelihood.
The following year, Ólafur visited Ecuador, where he traveled with his father. He felt entirely at home. He has since met all three siblings and other relatives, and visited his father in Miami, Chicago and London. His father, who was going through a divorce when first contacted by Ólafur's relative, has now remarried, and he and his second wife have a daughter.
Ólafur states he couldn't have wished for a better father. He wouldn't mind moving to Ecuador.