News
|
Iceland Monitor
|
Tue 13 Aug 2019
|
13.37 GMT
|
Modified at 13.58
Icelandic Riders Bring Gold from Berlin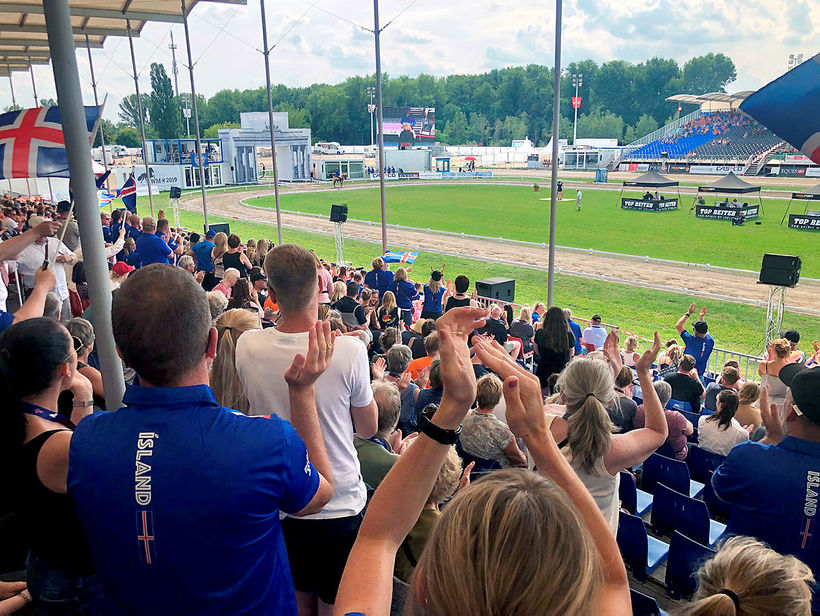 Spectators at the championship counted about 10,000, including 2,000 Icelanders. Photo/Þórunn Eggertsdóttir
Icelanders received seven gold medals at the World Championship for Icelandic Horses, which concluded in Berlin on Sunday, mbl.is reports. It was a week-long event, held at Pferdesportpark Berlin-Karlshorst in the Lichtenberg district. A total of 18 gold medals were awarded, five of which went to Germany three to Sweden, two to Denmark and one to Norway. Germany won the largest number of medals, or 14, including five silver medals and four bronze medals. Sweden received a total of 13 medals and Iceland 12.
You can see all the results here.
In the adult division, Icelanders received six out of nine gold medals awarded. As a result, Iceland won the team trophy for being the best team. In addition, Icelanders won one medal in the young rider division and four medals in breeding – a total of 12 medals. This is the best performance ever of the Icelandic team.
Sigurbjörn Bárðarson, the team's coach, describes this trip as among the best he has ever taken with the team. He states that what explains the excellent performance is partly a more professional method of managing the team, implemented last year.
Instead of choosing a national team based on results at one championship a year, a national team now practices together all year round, with the leadership of a coach and other professionals.
Gold medals at the World Championship give you automatic participation rights at the next World Championship, giving Iceland the chance to send an additional team to the next championship, to be held in Herning, Denmark two years from now.
Icelandic law prohibits the import of horses, forcing contestants to sell their horses abroad, following a championship. That is not done without sorrow, and every rider must subsequently find a new horse to ride. Foreign contestants, on the other hand, can ride the same horse year after year. With that in mind, the performance of the Icelandic team is all the more remarkable.
Next on the national team's agenda is a Nordic championship, to be held in Finland next year.