News
|
Iceland Monitor
|
Thu 16 May 2019
|
10.44 GMT
|
Modified at 11.09
Fifteen DC-3/C-47 Coming to Reykjavík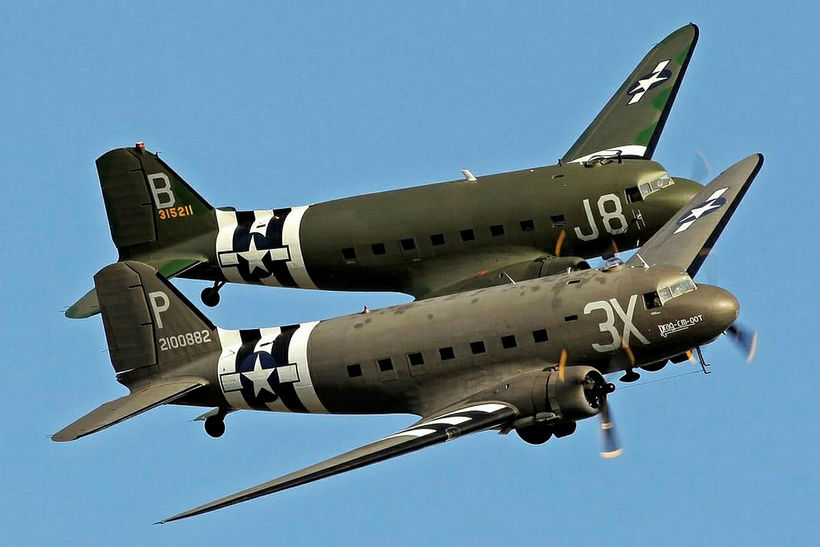 Fifteen DC-3/C-47 aircraft, like the ones in the picture, will be arriving in Reykjavík next week. Photo/Daks over Normandy
Reykjavík Airport is getting ready for the arrival of 15 DC-3/C-47 aircraft next week, Morgunblaðið reports. They are scheduled to leave Oxford, Connecticut, on Sunday. Their final destination is Normandy, France, where they will take part in a ceremony June 6th, commemorating the Allied invasion of Normandy 75 years ago, often referred to as D-Day.
It was the largest amphibious invasion in history and one that marked the beginning of the end of World War II. On D-Day, about 800 Allied DC-3/C-47 aircraft flew 24,000 paratroopers over Normandy, early in the morning. They joined more than 160,000 marines in their assault against German forces.
The planes are expected to land in Reykjavík Monday night or Tuesday morning, depending on weather.
Among the companies preparing for their arrival is Skeljungur oil company, since the aircraft require a considerable amount of fuel, or about 2,000 liters (530 gallons) each. Their combined fuel need comes close to being half of the annual fuel need of all private aircraft at Reykjavík Airport.
Organizers are working on securing the aircraft a place to park. Among the options being looked at is the so-called Emergency Runway, which is no longer in use. Having the aircraft on display for the public is also under consideration.
The mission is called D-Day Squadron, and another 15 aircraft from Europe will join the ones that come from the US before they cross the English Channel to Normandy. According to Moreno Aquiari, spokesperson for the expedition, five of the aircraft coming to Reykjavík took part in the Invasion of Normandy on June 6, 1944. You can read more about the D-Day Squadron here.
Landing all 15 planes could take three to four hours. The DC-3/47-A owned by the Icelandic DC-3 Friends' Association, Páll Sveinsson, will not accompany the other 15 to Normandy, due to lack of funding, but it will be flown from the Icelandic Aviation Museum in Akureyri to Reykjavík Airport for a rendezvous with its brethren.
Páll Sveinsson originally came to Iceland in December of 1943, to be used for transport for the US military at Keflavík Airport. After being purchased by Flugfélag Íslands (now called Air Iceland Connect) in 1946, the plane was used for passenger service for a number of years. From 1972 to 2006, it was used by the Soil Conservation Service of Iceland for soil reclamation.