News
|
mbl
|
Tue 28 Nov 2017
|
20.08 GMT
|
Modified 29 Nov 2017 20.42
Iceland hot spring burn victim tells his story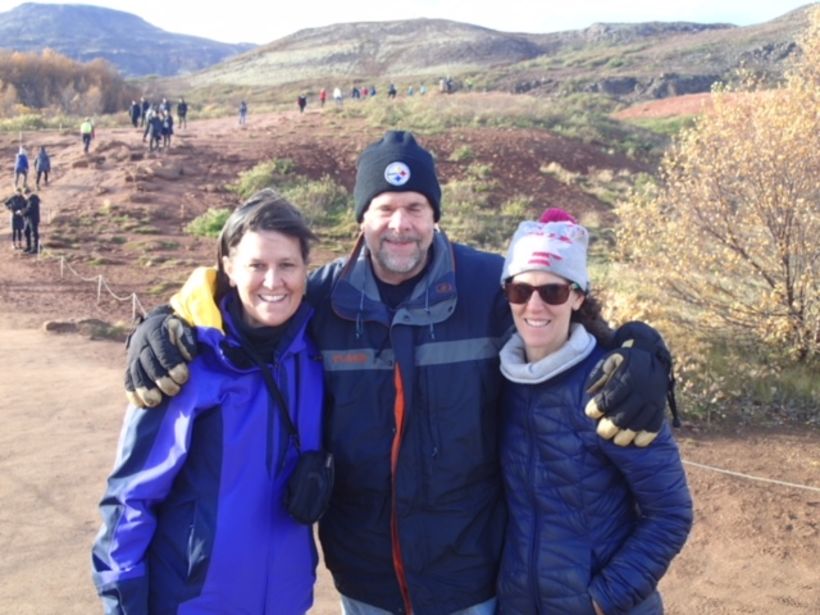 William Crawford with his two daughters, Bryce and Shannon on the morning of the terrible accident in Iceland. Photo/Private collection
Anna Margrét Björnsson


William Crawford was holidaying with his two daughters in Iceland last year when he had a terrible accident at the Secret Lagoon in South Iceland. He fell into a hot spring by the side of the pool and suffered burns over the majority of his body. Now, one year later, on his road to recovery, he wishes to express his eternal gratitude to the people who helped him in Iceland.
Man severely burned after falling into geyser
"I generally play by the rules and follow instructions," says Crawford, known as Chip to his family and friends. "My daughters and I had dinner at a B&B across the bridge then visited the hot spring pool. We arrived about 45 minutes from closing and it was getting dark. I did not see the warning signs."
He is extremely grateful to the all those who helped at the site of the accident, the staff of the Secret Lagoon, the hospita staff, rescue teams and embassy representatives.
Crawford contacted Iceland Monitor to ask us to publish his letter of thanks and an update on his story. We wish him all the very best of luck and the speediest of recoveries.
Letter to Landspitali

November 29, 2017

Dear Administration / Doctors / Nurses / Staff,

My wife Michel, Bryce and Shannon (daughters) and I are eternally grateful for the care, concern and efforts you so willingly extended when I arrived at your hospital over a year ago as a result of severe burns incurred at the Secret Lagoon. Had it not been for your exceptional response from the Intensive Care Unit professionals I may not have survived the injury. I thought in return I would give you some detail and an update.

Bryce and Shannon surprised me with a father / daughter adventure (little did I know) vacation to Iceland in celebration of my 70th birthday. We ended the second day with an evening swim at the Secret Lagoon (hot springs). I decided to go for a cold water swim in a narrow river which flows past the hot springs. I took a short cut over what I thought was a grassy green lawn when in fact there were hidden thermal pools of boiling water just beneath the surface. The I almost made it to the river when my left leg plunged into one of these soft spots. I jerked to pull my leg out and in doing so both legs and my my entire left side went down into the hot water. I knew in an instant I was toast - literally. I screamed and it so happened Shannon who was about 20 feet away, with help from a passerby, pulled me from the pit. My daughter literally saved my life. Another minute and there would not have been much left to save.

It took about 20 minutes for a rescue team to arrive, assess and medicate - morphine and then La-La-Land. I left by road ambulance but about 30 minutes away in Selfloss Iceland, an air ambulance helicopter landed by the road and transported me the rest of the way to a hospital in Reykjavik where I was treated for two days prior to being medically evacuated to the states. There was initial conversation between the hospital staff and my daughters about the need to life flight me to Sweden or England for emergency care in a burn center but it was in the best interest for all parties involved to have me transported to the US and West Penn Hospital only 9 miles from our home.

Your hospital staff could not have been more attentive, caring, informative and loving to my daughters. They were amazing and represented the best in medicine, and from what I experienced, before the accident, the warm nature and friendliness of Icelanders.

As an aside Shannon called the US Embassy as directed by the hospital staff. The person she spoke with said she needed to check this out with her boss and call back. The call was returned a couple hours later and Bryce was told there wasn't much they could do. This next paragraph is from Bryce as I was still heavily sedated and have no memory of my time in the Reykjavik hospital.

"The next morning a

lovely

Icelandic woman, Edda Sigurdardotti, arrived at the hospital indicating she was from the embassy. I thought she was from the US Embassy but she was actually from the Canadian Embassy. Police had contacted her at midnight to let her know there had been an accident with someone who had a Canadian connection. Because Bryce, my daughter, has dual Citizenship the Canadian Embassy fully supported her and Adda

spent significant time with my daughters showing empathy, taking care of a car rental return, and arranging the life flight to land at a smaller less congested airport closer than the main airport, and other logistics."

I have no memory of the Reykjavik hospital or life flight. I awoke from 3 weeks in an induced coma at West Penn Hospital in Pittsburgh, one of the top burn centers in the US. I had a total of 13 skin grafting surgeries. While in the induced coma, and medicated, I had both the pleasure and terror of wild unbridled dreams: visions of my wife, children and grandchildren floating in a lifeboat in a churning sea, being shaved with a huge extremely dull straight razor by a strange guy, splendid vacations to far away lands, and fights with demons.

After a month I was transferred to Life Care Hospital and then back to the burn center due to complications. After stabilization I returned to Life Care and then to Health South Rehab Hospital for 3 and a half weeks of rehab followed by 3 months of outpatient rehab. At the time of the accident I weighed about 200 lbs. When I was discharged from the rehab center 4 months later my weight had dropped to 140 lbs losing almost a third of my body weight. I'm now up to 180 where I plan to stay.

I've passed the one year mark with the probability of another year of recovery. Physically, I'm able to move (although the jive motion has yet to come - dancing is a goal). I go to the gym daily and visit a local park on occasion for a walk of about 2 miles. I'm driving but for short distances.

I would like to thank staff members present at the Secret Lagoon that night as they too were attentive to my daughters as well as my care and comfort. Additionally the rescue team from Fludir were professional, sharp and on task. I also appreciate the helicopter pilot and others involved with transportation. Aga Szaa, a resident of Fludir, met my daughters at the Secret Lagoon (don't know if she happened to be there or was called to assist). Aga drove them in our rental car to your hospital and stayed close until discharge. I've not been successful getting in touch with these people so if you can get this letter of appreciation to them that would be terrific.

I hope some day to return to Reykjavik to thank you personally and to complete the splendid vacation my daughters organized.

Blessings,

William (Chip) W Crawford, Jr