News
|
mbl
|
Thu 28 Sep 2017
|
11.16 GMT
|
Modified at 11.33
Farmers and tourists trapped at farm during East Iceland floods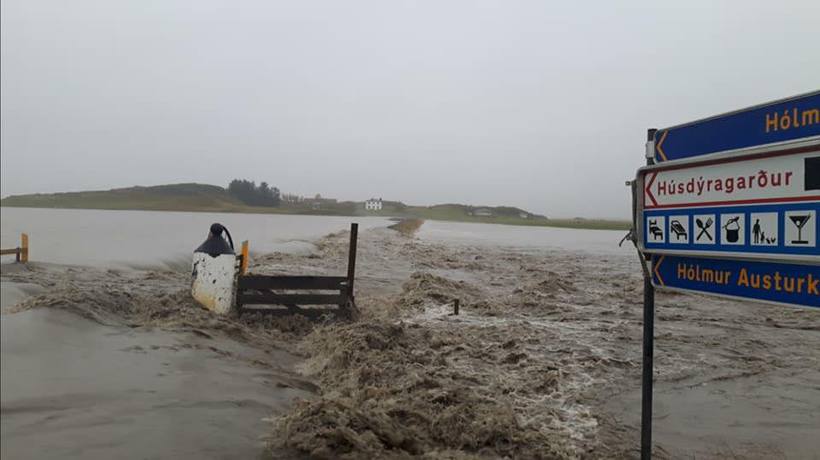 Hólmsá has flooded across the road which now acts like a dam. The farm is completely cut off from all roads now . Photo/Guðjón Helgi Ólafsson
The farmers at Hólmur farm in east Iceland are trapped at their farm along with six tourists who were staying there for bed and breakfast. "We're all quite comfortable, guests, animals and farmers," says farmer Magnús Guðjónsson.
The river Hólmsá flooded yesterday and seeing as the farm is located on a hill, no water got into the building. However, there's no way of getting to the farm except by boat now. "The water reaches right up to the farm. I'm stuck here, can't go anywhere and all I can do is go to the top of the hill and look around."
The tourists will be transported from the farm today but they will have to leave their rental cars behind until the flood subsides . Although the farm buildings escaped the water, his fields and fences are considerably damaged.
Guðjónsson has never experienced flooding such as these before. He partly blames the road adminsration who constructed a new bridge across the Hólmsá river. "It's really narrowed the river passage. The road almost acts like a dam," he explains, and adds that the defence barriers by the bridge are made of sand and gravel and lack rocks. "It all came apart. There was no rock or solid material to stop the flood."
He himself just made it back to the farm when the river flooded. He was shopping in the nearby town of Höfn when it started. "A nearby farmer was herding my flocks when I arrived so thankfully all the sheep made it to the hill and are safe there with me." Their daughter however couldn't get home from school. "So she's just staying with her brother in Höfn."
"