News
|
mbl
|
Mon 21 Aug 2017
|
19.54 GMT
|
Modified at 20.18
Murder trial: Police deny putting pressure on suspects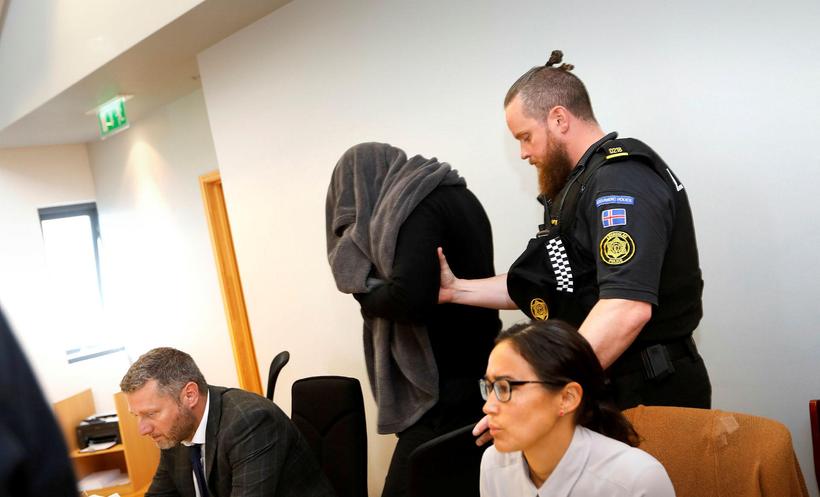 Thomas Møller Olsen covering his face from photographers at the Reykjanes district court today. mbl.is/Eggert Jóhannesson
Nikolaj Wilhelm Herluf Olsen was ruled out as suspect in the case of the murder of Birna Brjánsdóttir for a number of reasons, one of them being that none of Birna's DNA was found on his clothing whereas DNA was found on Thomas Møller Olsen's clothing. The policeman in charge of the interrogation denies that any pressure was put on the suspects to confess to a crime.
Leifur Halldórsson at the Reykjavik Metropolitan Police says that Nikolaj Olsen was ruled out as a suspect when video footage showed him walking back into the trawler Polar Nanoq.
Thomas Möller Olsen however went back into the car and told police during interrogation that there were two girls in the car. Investigation also revealed that Nikolaj had been extremely drunk according to numerous witnesses.
Once police found the red Kia Rio rental car, Halldórsson says that it was clear that something had occurred inside the vehicle. "There was blood in the back seat, blood underneath the back seat and on the dashboard and the door on the driver's side. It's obvious that a struggle had taken place." At that point they couldn't confirm whose blood it was until a DNA examination was returned from Sweden.
Halldórsson says that Olsen told the investigating police that he had driven from the Hafnarfjörður harbour with two girls who he drove to the Reebok fitness centre at Ásatorg. "We couldn't find any road camera evidence to support this claim." According to Halldórsson, Olsen's story of two girls in the car came about from the very beginning and says that in no way had police put pressure on him during interrogation.
The red Kia Rio was not visible in any security or road cameras between 7 and 11 am on the Saturday morning in question and police believe that Olsen disposed of Birna's body in the ocean near Óseyrarbrú in the space of that time.
Birna's autopsy revealed that she had been struck multiple times in the face, resulting in a broken nose and jawbone, and had marks around her neck and eye injuries from being choked. The autopsy also revealed that her cause of death was drowning, which means that she was still alive when she was thrown into the water.