News
|
mbl
|
Wed 14 Jun 2017
|
20.03 GMT
I'll be back!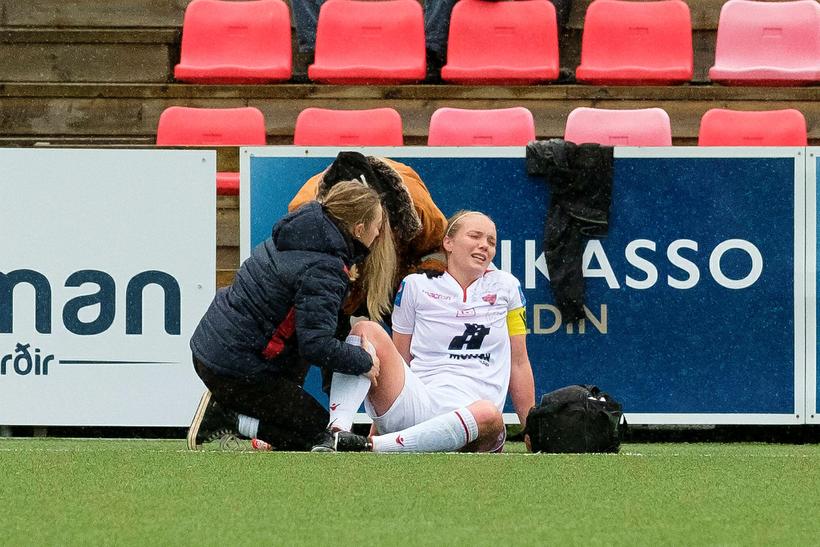 Margrét Lára Viðarsdóttir is one of Iceland's most famous football players. Photo: Iceland Monitor/Kristinn Magnússon
"This sucks, as simple as that. I thought I'd had my share of injuries so I was very surprised I must say," says Margrét Lára Viðarsdóttir, captain of the Icelandic Women's National Football Team
She suffered a ruptured cruciate ligament. She did not play in last night's match and will not play with the team in the EURO 2017.
Margrét Lára, as she's known in Iceland, is one of the country's most famous football players. She's been a leading force in the national team for years, which she joined in 2003 when she was only 16 years old. She has scored the more goals than any of her teammates, 77 in 117 games.
"The last three or four years have been a fairytale. The team is very strong and steady. For a striker like me it's a privilege to have this great defence behind me. Now other girls will step up, I trust them 100% to deliver."
Margrét Lára is 30 years old and has been playing in top leagues half her life. She played professionally abroad for years, both in Sweden and Germany. She means to continue playing football, though this injury will likely keep her from the game for just under a year.
Taped the knee and returned to the game.
The injury happened when she was playing for local team Valur in the end of May. She didn't believe the injury was anything serious and was bent on recovering for the EURO 2017.
Margrét Lára only found out few days ago that she had a ruptured cruciate ligament. "It was strange. I stood up and left the field, taped the knee and returned to the game [she had to leave again a few minutes later]. I have built my body for well and done a lot of exercises to to minimize risk of injuries. I have strong feet and ligaments in that area. The good thing is that everything else in the knee is in good shape. It's only the damn anterior cruciate ligament that's ruptured which means I can't play football."
Injured heart but it hasn't stopped beating
Margrét Lára's aim is to return to football when she has recovered. "I have no idea how the surgery will go or how I will recover, but I'll do everything I can to fix the knee and play football again. I don't want to finish this chapter like this, I can't. I love my career and what I have done. I've been through a lot, played injured for eight years, had a great surgery last year and was getting closer to my the best shape I've ever been in. I was finally starting to train like a proper football woman, every day, and then this hit's me. I'll go on. The heart is injured but it hasn't stopped beating. I'll be back!"