News
|
mbl
|
Mon 23 Jan 2017
|
15.45 GMT
Iceland mourns for missing girl found dead - a timeline of events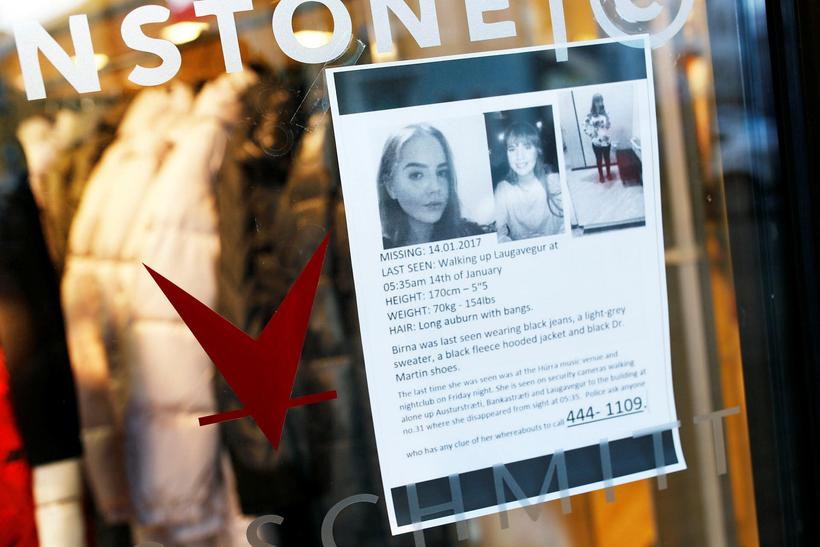 Birna Brjánsdóttir was your average Icelandic girl, out partying with her friends. She never returned home. Photo/ Iceland Monitor
Anna Margrét Björnsson


Iceland is united in grief today. A body of a young woman, Birna Brjánsdóttir, was discovered on a desolate beach on Sunday after she had been missing for over a week. Such murder cases are rare in a country with one of the world's lowest crime rates and a population of 330 thousand people. The sinister unfolding of events this past week have an uncanny resemblence to Nordic Noir fiction.
Not one person that I have spoken to in recent days has been untouched by the case and the events that unfolded from such an every day event as a young woman walking home from a night out partying, up a crowded, well-lit street.
Both myself and almost every one of my female friends have walked up that very same street from that very same bar, at that hour of night, and we have always felt safe. Speaking to girlfriends over the weekend- I gathered that most of them have at some point even caught a lift from strangers for short distances. Some of them also use an underground "Uber" like services called "Skutlarar"- a Facebook group where people offer or ask for lifts from strangers driving around town- for a lower price than official taxis.
That's not to say that the city centre of Reykjavik is entirely safe. Icelanders drink heavily on weekends, there are often fights or attacks downtown, and rapes are reported. But this - a girl just heading home and disappearing off the face of the earth - everyone felt there was something really odd about that.
The story of Birna, an average young Icelandic woman, who walked up Laugavegur after a beer too many is the story of a young woman doing something most young women do. And have felt relatively safe doing. That's probably one of the reasons Birna's story touches us all.
Saturday January 14th: Birna goes missing
The story begins as Birna Brjánsdóttir, a twenty-year old girl is reported missing on Saturday, January 14th by her mother. Birna had gone partying at Húrra, a popular music venue and pub right at the heart of the city. Earlier that night, local paper The Reykjavik Grapevine had hosted their annual music awards at the venue, a popular event where some of Iceland's best indie bands perform. Birna left Húrra alone, she'd become separated from her friends, and was not seen again.
A missing person is not that uncommon in Reykjavik, sometimes young women go missing for a couple of days, especially if they are involved with drugs or simply decided to bail out from their parents home. Her mother appealed again to the public on the weekend of her disappearance, and to the Reykjavik Metropolitan Police to begin searching. The whole thing was completely out of character for Birna, she said. Birna was not involved with drugs. Birna is a healthy, happy girl and has plenty of friends. She is always online, and always lets people know where she is. And this time, Birna had just disappeared, her phone was switched off, she was offline on Facebook. She hadn't turned up to work on the weekend, unusual for a conscientious girl. All of this didn't add up at all.
That same weekend, Birna's photograph starts circulating on Icelandic social media. MISSING. Where is Birna? her mother pleads. Birna gazes at us from the photo. She's a pretty, smiling, auburn haired girl.
The search begins
And so, police began piecing together the puzzle that is her disappearance. There are security cameras in various places around the city centre. Footage showed Birna walking up Laugavegur, the main shopping street in Reykjavik, where plenty of bars and restaurants are also situated. She's obviously in an inebriated state, her steps are unsteady, but she seems to know where she's going. She's eating something, later revealed to be a kebab bought at Ali Baba in the city centre.
A red car, a Kia Rio was seen stopping at Laugavegur 31, which is also the last place where Birna is seen on security cameras. She wasn't seen getting into the car, but police published photos of the car asking for information or the driver to come forward. The persons in the car may be the last ones to give clues as to where she went.
Her cellphone is traced all the way to Hafnarfjörður, a small town adjacent to Reykjavik. It has seemingly been switched off manually. Had her phone been stolen, or did she herself go all the way to Hafnarfjörður?
Her father speaks to Icelandic media. Birna lives with him, he says, in Breiðholt, a suburb of Reykjavik. It's just the two of them living together, with their cat. She's a grown woman and often goes out, he says, she has plenty of friends, but she always gets home, and always lets him know where she is.
Shoes found near Hafnarfjörður harbour
The Reykjavik Metropolitan Police host a press conference. This is fairly unusual. The police are usually a surly bunch, not really forthcoming with information to the media. This time, they are open, honest, compassionate, clear, concise. Heading the investigation is police officer Grímur Grímsson who starts reminding locals of the protagonist in the crime novels of Arnaldur Indriðason, Detective Erlendur.
Birna's mother also appears at the press conference. She pleads to the public for any information. This is also unusual. Icelanders somehow feel that this reminds them of something that only happens abroad. Not in Iceland.
After police launch an extensive search, Birna's shoes, a pair of Doc Martens are found snowed up near the harbour of Hafnarfjörður. A continuing search of the area reveals nothing. Were the shoes planted there, or what on earth happened?
The crucial evidence appears. A red Kia Rio is spotted on video surveillance cameras of Hafnarfjörður harbour. It's parked near a Greenlandic fishing trawler called the Polar Nanoq. It's shown parked there at 06.30 am and is identical to the car last spotted on Laugavegur at the time of Birna's disappearance.
It was revealed that it had been hired by crew of a Greenlandic trawler, a vessel called the Polar Nanoq which lifted anchor a few hours after Birna went missing.
Suspects aboard a Greenlandic trawler
The Polar Nanoq responded to requests by the Icelandic Coastguard to turn around to Iceland as crew members need to be interrogated by Icelandic police. Furthermore, a Danish coastguard vessel called Triton was sent towards the Polar Nanoq.
Members of the special force unit at the Icelandic police boarded a National Coastguard Helicopter and flew towards the Polar Nanoq, overtaking control of the ship and arresting three crew members. A substantial amount of hash was also found on the vessel.
The ship returned to Reykjavik and the suspects were taken into custody, two on suspicion of being involved in the disappearance of Birna, the third in connection with the drugs.
Traces of Birna's blood were later found in the red car, traces which someone had tried to eradicate.
The two men were interrogated and both denied charges. Police still have no clue as to what happened to Birna and where she is.
Over 500 people take part in Iceland's largest search and rescue
On January 20th police reveal that the men are in custody on suspicion of a heinous crime. The following day, Saturday January 21st, the most extensive search in the history of Iceland takes place for a missing person. Over 500 SAR team members take part in the search for Birna, to no avail.
On Sunday, police receive the results of forensic evidence placing Birna inside the red Kia Rio. And at noon on Sunday, in the midst of a second day of an extensive search, the National Coastguard Helicopter spots a body on the beach, near Selvogsviti lighthouse, south of Reykjavik.
At 5 pm on Sunday this information is revealed at a press conference held by the Reykjavik Metropolitan Police. Birna Brjánsdóttir has been found dead. Her body was either placed on the beach or it washed ashore. Police believe she was murdered.
On Sunday night, social media in Iceland is flooded with messages of love, grief and support for Birna's family and friends. Every single person is sad, shaken, shocked.
And in Greenland, locals light candles for Birna. Her case has touched the hearts of two neighbouring countries.
Police are still interrogating the two suspects and continue their investigation of the case and what actually happened on that fateful morning of Saturday, January 14th when a typical young Icelandic woman was just simply heading up a busy street after a night on the town.
Iceland has a registered average of 1.8 murders per year over the past 16 years and the macabre turn of events in Birna's case has truly touched the nation.