News
|
mbl
|
Tue 17 Jan 2017
|
21.15 GMT
|
Modified 18 Jan 2017 15.48
Missing woman possibly traced to Greenland trawler now pursued by coastguard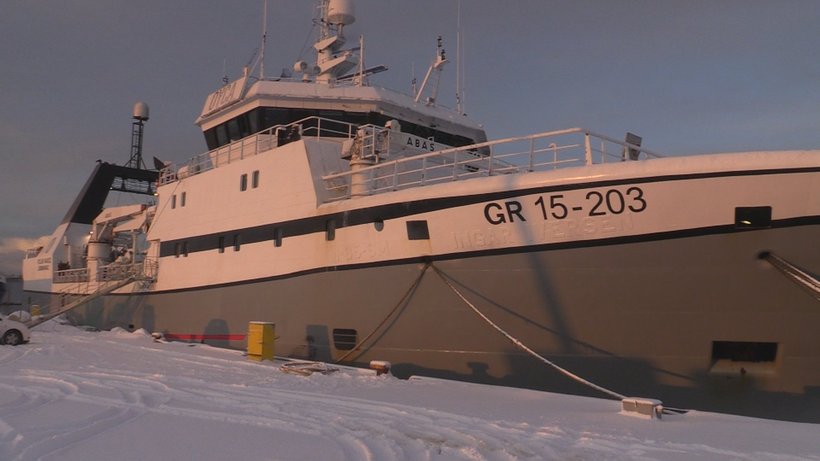 The Polar Nanoq was docked at Hafnarfjörður harbour and left the coast of Iceland just as Birna Brjánsdóttir went missing. Crew of the trawler are connected to the red rental car spotted on Laugavegur. mbl.is
The red Kia Rio car which was seen stopping at Laugavegur where Birna Brjánsdóttir, missing since early Saturday morning, has been found. It was revealed that it had been hired by crew of a Greenlandic trawler and the car was spotted where the trawler was docked on Saturday night before leaving Iceland at around 9 pm.
Driver of red car asked to come forward
According to sources of mbl.is earlier this evening it was believed that a helicopter carrying the special armed unit of the Icelandic policeforce had been sent via helicopter towards the trawler, called the Polar Nanoq.
Police need help in missing person case
The most recent report is that the Polar Nanoq has responded to request by the Icelandic Coastguard to turn around to Iceland as crew members need to be interrogated by Icelandic police.
Danish coastguard ship Triton has been notified and is sailing towards the Polar Nanoq.
Birna's shoes were found near the harbour at Hafnarfjörður where the trawler was docked.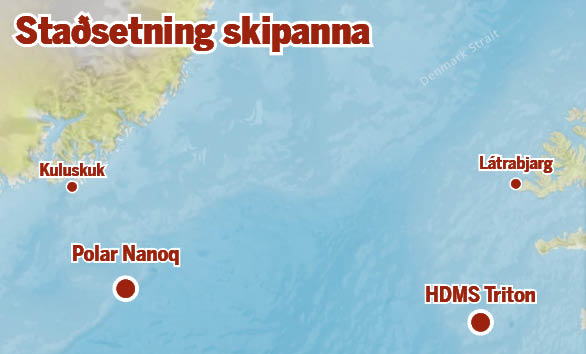 A map showing the location of The Polar Nanoq and Danish coastguard vessel Triton at 18:30 tonight. Map/​Loft­mynd­ir-mbl.is
Missing young woman almost certainly driven to Hafnarfjörður
The timeline of the events is therefore as follows: A car was spotted on security cameras in Laugavegur in Reykjavik city centre at 05:25 on Saturday morning, at the same time that Birna was spotted in a security camera. A red car was spotted on a security camera in Kópavogur and Garðabær and the car is seen speeding off when a light turns on in the security camera. At 05:50 Birna's phone is tracked to Flatahraun in Hafnarfjörður and then her phone was manually switched off. The car was spotted on security cameras at the Hafnarfjörður harbour between 06 and 6:30 on the morning of Saturday and the passengers in the red car are believed to be connected to the Polar Nanoq. Just before midnight last night, Birna's shoes were found near Atlantsolía oil tanks near the Hafnarfjörður harbour.