News
|
Iceland Monitor
|
Tue 5 Jul 2016
|
14.05 GMT
|
Modified 31 Aug 2016 12.24
Iceland set sights on 2018 World Cup
No sooner has the dust settled on Iceland's men's glorious Euro 2016 campaign than thoughts turn to the next major international tournament – the 2018 World Cup in Russia.
Euro 2016 was the first time ever that Iceland's men had qualified to the finals of a major international football competition.
Icelanders everywhere – and many friends of Iceland internationally – are hoping that this was not a one-off and that Iceland will be gracing the pitch when the next World Cup kicks off in two years' time.
Qualifying matches for the 2018 World Cup begin in the autumn.
Iceland is Qualifying Group I of the UEFA section of the heats, together with Croatia, Finland, Kosovo, Turkey and Ukraine.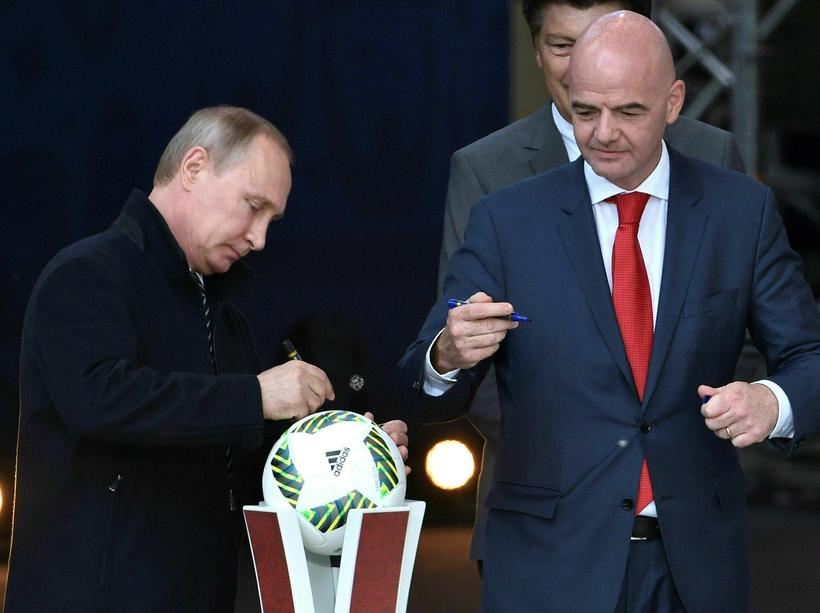 Russian President Vladimir Putin and FIFA President Gianni Infantino signing a ball during the launching ceremony of the Volunteer Programme for the 2018 World Cup. Photo: AFP
54 European teams will be battling it out for thirteen places in the world cup. Iceland is the sixteenth best team of these 54 according to July 2015 FIFA rankings.
There are nine qualifying groups (A-I) and the winner of each group qualifies directly to the World Cup in Russia. The eight best second-placed teams will go to play-offs in November 2017 and the four winners will also qualify – making the total of thirteen.
Iceland therefore need to finish their group in first or second place to have a chance of playing in Russia. They are the second best team in Group I according to July 2015 FIFA rankings (23rd best in the world, as compared to Croatia in 14th place).
Iceland's first 2018 World Cup qualifying match is against Ukraine in Kiev exactly two months' time, on 5 September.