News
|
Iceland Monitor
|
Thu 2 Jun 2016
|
10.58 GMT
Video: Heroic rescue of tourists stuck in dangerous Icelandic mountain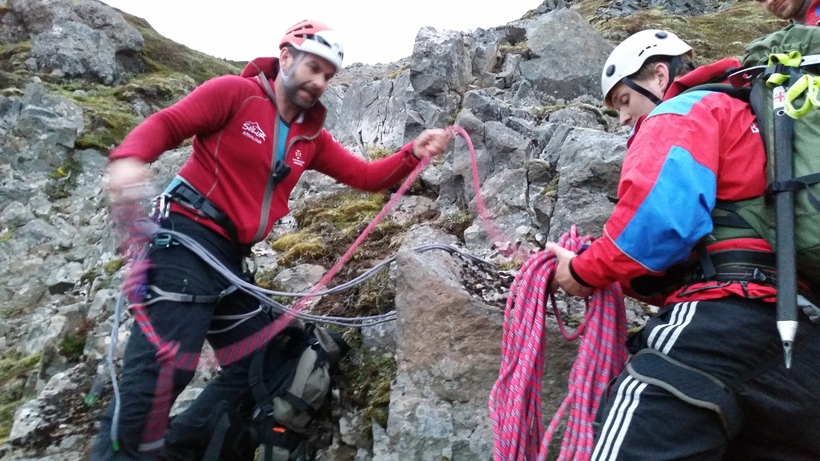 The rescue took place on Tuesday night. This photograph was taken by one of the rescuers. Photo: Ólafur Tryggvi Ólafsson
Nearly forty people took part in complicated rescue operations to save a couple who were stuck in the slopes of Nesskriður, a mountain range east of Siglufjörður.
The couple, who are tourists to Iceland, called the emergency services late on Tuesday night when they could neither go up or down due to loose rocks and gravel and the mountain being extremely steep straight down to ocean. The couple were hiking from Héðinsfjörður and were intending to walk to Siglufjörður.
SAR teams from Akureyri, Dalvík, Ólafsfjörður and Siglufjörður as well as members of the local police all joined forces in a very difficult rescue. The rescue teams were transported via boat to the mountain and a drone was used to check out conditions at the rescue site.
When rescue teams reached the couple they were cold and hungry. SAR team member Ólafur Tryggvi Ólafsson, speaking to mbl.is, says that they were given water and food. "When people get into this sort of situation they are scared and we needed to encourage them to start climbing down again." Rescue teams used secured lines to get back down. "Thankfully noone was hit by rocks on the way down but they were falling all around us."
See footage from the rescue here.