News
|
Iceland Monitor
|
Thu 17 Mar 2016
|
20.00 GMT
|
Modified 25 Apr 2016 9.50
PHOTOS: Is climate change wiping out Iceland's glaciers?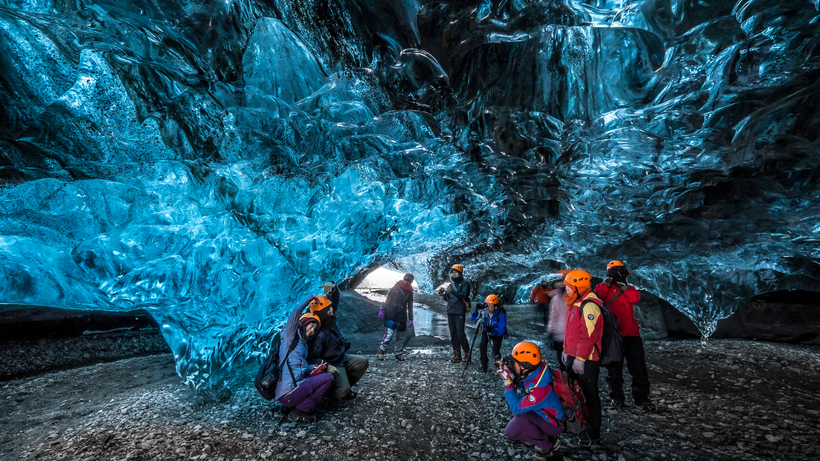 The rock visible outside the opening to this cave was 100 metres inside of it a year ago. Photo: Einar R. Sigurðsson
South-East Iceland's Breiðamerkurjökull glacier – which runs into the country's iconic Jökulsárlón glacier lagoon – has lost a massive 600 m in one year.
Tour guide Einar Rúnar Sigurðsson of Local Gui­de of Vatna­jök­ull recently took Morgunblaðið photographer Ragnar Axelsson (RAX) on a visit to the stunning ice caves of the region, to see just how much the ice has receded in recent times.
In one of the caves, which Sigurðsson calls Fosshellir (meaning 'waterfall cave'), the ice has receded so much that the waterfall which was inside the cave just two years ago is now some way outside of it.
In the nearby Norðurljósahelli (meaning 'Northern Lights cave' – again baptised by Sigurðsson), a large rock which was just one year ago 100 metres inside the cave is now outside, 500 metres away from the glacier.
"I've measured it," he says. "The glacier has receded by 600 metres in just twelve months. I have never seen such a large chunk of glacier disappear in one year."
Oddur Sigurðsson, a glaciologist at the Icelandic Met Office, puts the blame squarely on the shoulders of climate change.
"Even if we succeed in responding strongly to climate change and reducing greenhouse-gas emissions, there is an inbuilt inertia in the system," he explains. "The situation [of disappearing glaciers] will continue to worsen even if we manage to reduce emissions."
Related articles: