News
|
Iceland Monitor
|
Thu 21 Jan 2016
|
10.50 GMT
|
Modified 8 Apr 2016 14.47
Living under the protection of a mysterious elf woman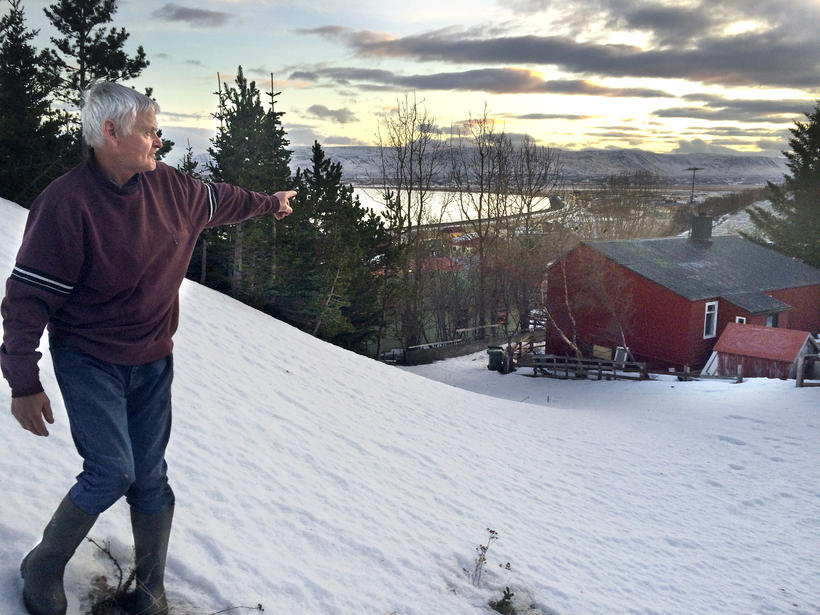 Eymundur Jóhannsson lives at Kambastígur, a small street under the Nafir hills in Sauðárkrókur, Skagafjörður, North Iceland. Mbl.is/ Björn Jóhann
Eymundur Jóhannsson lives with his wife and daughter at Kambastígur, a small street in Sauðárkrókur, North Iceland, a place in most danger of avalanches for the town according to a new report by the Iceland Met Office. Despite the danger the family sleep soundly, under the protection of an elf woman.
"There was so much snow here when the avalanche came down the mountain. We were at home and heard loud thudding noises when the snow hit the building," says Jóhannsson in an interview with Morgunblaðið, describing the time an avalanche came down the Nafir hills above Sauðárkrókur on November 18th 2012.
Jóhannsson and his family are one of the few people still living in this street under the Nafir hills (Nafirnar). The new danger estimate by the Iceland Met Office avalanche department has been presented to locals and advises against building in the area.
The 2012 avalanche caused no damage to the building and only broke a few trees further up in the hills, explains Jóhannsson. "But I had to climb onto the roof to shovel the snow off."
The Nafir hills are actually the old shoreline, around 30-40 metres high that rise above the older part of town. They are cut by indentations known as Grjótklauf, Grænaklauf, Kirkjuklauf, Kristjánsklauf and Gránuklauf.
Jóhannsson sayst that hidden people live in the hill north of Kristjánsklauf, hidden people that moved with the family from their previous home, a farm in Árgerði in Skagafjörður.
"It may sound strange to some people. But our daughter is very perceptive and she feels their presence very strongly. She's seen an woman. Her name is Rósa and she moved here with us. The younger of those people stayed back in Árgerði. The woman lives somewhere in the hill," explains Jóhannson.
"We've heard that Rósa's presence is so strong that she appears at séances in Sauðarkrókur," Jóhannson says and smiles, a bit embarrassed, adding that his wife and daughter feel the presence of the elves more than he does. "We sleep soundly here," he explains, "Even through snowstorms. Rósa probably protects us. "