News
|
Iceland Monitor
|
Wed 30 Dec 2015
|
9.56 GMT
|
Modified 2 May 2016 9.09
VIDEO: "Absolutely crazy" storm in East Iceland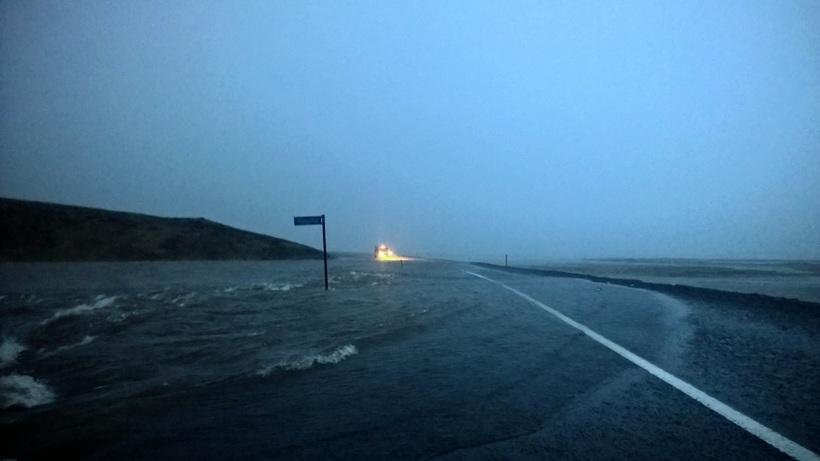 The road leading to Fáskrúðsfjörður, one of the towns in East Iceland's numerous fjords. Photo: Eiður Ragnarsson
Rescue teams have been hard at work this morning in East Iceland which is currently being hit by the storm dubbed as the "freak" storm. The town of Eskifjörður seems to be the suffering the worst of the weather.
In Eskifjörður, entire roofs have blown off two or three houses and the marina is in shreds. In an announcement from the Landsbjörg association of rescue teams it states that further rescue teams are being sent from Reyðarfjörður to Eskifjörður. "Elsewhere the weather is not so bad. In Reyðarfjörður, corrugated iron came off an office building, trampolines and fish containers blew away in Fáskrúðsfjörður, a roof became loose on a farm in Þistilfjörður and drains were cleared in Höfn and Vopnafjörður as there had been flooding into basements."
Over seventy rescue workers have been on call last night. This morning, there were power cuts to Neskaupstaður.
Speaking to mbl.is shortly after 9 am, rescue team leader Ólafur Atli Sigurðsson, located in Fáskrúðsfjörður said that the weather was far from going down. "There's an absolutely crazy storm here and it's not getting any better. It's actually getting worse and some of the wind currents sweeping trough sound like someone's firing a canon."
The sea is sweeping over the roads in Fáskrúðsfjörður and there has been considerable damage to them. "Rocks are being pelleted from the harbour," he adds. "But we've had no major damage."
The video below was sent by a reader from Strandgata in Eskifjörður.