News
|
Iceland Monitor
|
Tue 25 Aug 2015
|
15.25 GMT
|
Modified at 16.26
Twelve ways to make Iceland better?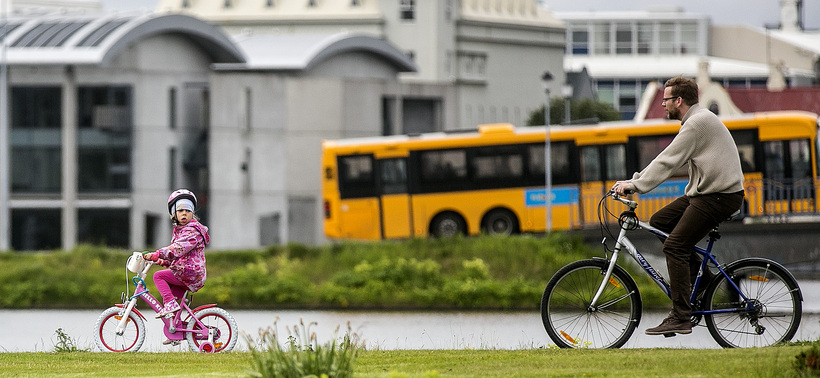 Hamilton proposes dancing lights in the Reykjavik pond and free bus fares in central Reykjavik. Mbl.is/Ómar Óskarsson
There's a saying that goes, " A guest for a while sees a mile." Well, Louise Hamilton is from Britain but for the last couple of years she's worked as managing director of the ITM tourist information office in Bankastræti in central Reykjavik. A few days ago at Keflavik International Airport she published a list on her Facebook page of things she'd want to do if she was the boss of Iceland.
The list has gained considerable circulation on Facebook in Iceland with many locals agreeing with her on most of the points made. Hamilton kindly allowed Iceland Monitor to publish the list which is as follows:
1. Ban all plastic carrier bags. You can buy a canvas bag.

2. Ban the sale of plastic water bottles and put water taps everywhere. You can buy a flask.

3. No more hotels in 101 Reykjavik, they can start a hotel district at Borgartún with a line to the downtown.

4. Everyone who wants to build a hotel can be offered to build toilets and nice looking car parks instead because it is NORMAL in the rest of the world to pay for these things and people will not mind. So called Icelandic entrepreneurs are missing out on so much money because they don't do this. I paid 2EUR to use a cool bathroom in Vienna designed by Hundertwasser and we have plenty of designers in Iceland.

5. Make parking in 101 Reykjavik expensive and the Strætó bus service free.

6. Fine every single person talking on the phone while driving. Fine is 20,000kr like in England. Three times and you are out.
7. Clean up Sæbraut/Lækjargata in front of Harpa because it is a disgrace and make an underpass for the traffic.

8. Make a dancing light fountain in the pond like Dubai.

9. I will start a charm school and everyone working in KEF will attend it.

10. Put a glass roof on Laugavegur.

11. Give park rangers a credit card machine to fine people camping where they shouldn't be because it is downright naive to complain about this if you don't do anything to enforce it.

12. Knock down BSÍ and build a new one, (with a presentable car park).