News
|
Iceland Monitor
|
Thu 11 Jun 2015
|
10.16 GMT
The Holy Grail possibly in Iceland?
Italian mathematician and explorer Giancarlo Gianazza believes that he has found hidden clues in Dante's Divine Comedy by Dante that the Holy Grail is in Iceland. Gianazza and his team are now on Kjölur in the highlands searching for this coveted relic, also known as the cup of Christ.
It is believed to be a dish or cup which is an important theme in Arthurian legend, although some wilder theories proclaim that what it actually refers to is the bloodiline of Christ.
Documenting Gianazza's project are Italian filmmakers Sofia E.Royati and Alex Sykulak who have a project on Kickstarter called Finding Thule so the can film the final excavation at Kjölur and complete their documentary with a planned release date of September 2016.
The trailer on Kickstarter can be watched HERE.
Gianazzi and his companions believe they are close to excavating The Holy Grail in the desolate highlands at Kjöllur, and marks the end of a thirteen year long project which has involved a lot of research in Iceland and mathematical analysis of Dante's text.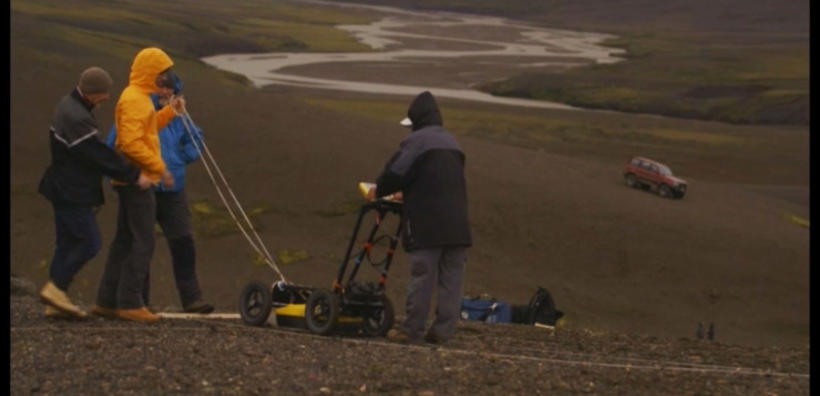 "What is fascinating about his research is that Gianazza doesn't know what exactly he is looking for," says Sofia E.Royati. "He can only draw assumptions based on the historical circumstances in which Dante writes his masterpiece, hence the connection with the Templars. By following clues that he finds in the Divine Comedy, translating poetry into geographical coordinates, Gianazza got hold of a map to the unknown. The destination will only be revealed once he finally gets there."
For a detailed account of their project, visit Stuck in Ice­land.