News
|
Iceland Monitor
|
Fri 23 Jan 2015
|
13.14 GMT
|
Modified at 13.30
Pickled penises, rotten shark and other delicacies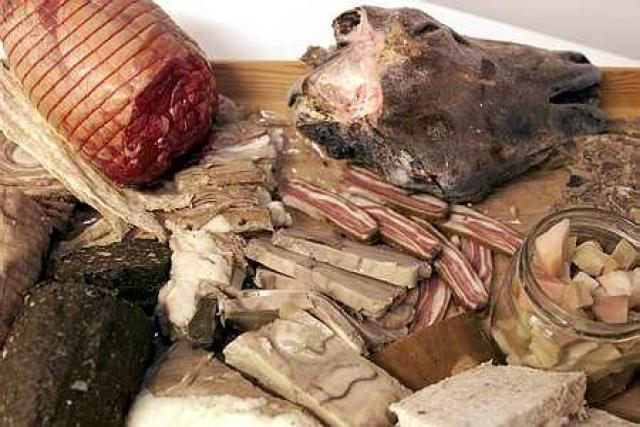 Þorramatur, traditional Icelandic food which will be widely enjoyed today. Here you can see Hangikjöt ( smoked lamb), sheep's head, blood pudding, shark and liver sausage. mbl.is/Árni Sæberg
Today is bóndadagur in Iceland, a day which can be translated to both farmer's day or husband's day and it heralds the beginning of the Þorri winter season. This is a time in which Icelanders gather to enjoy Icelandic food which is pickled, putrefied or smoked according to old tradition.
On bóndadagur, the farmer was supposed to rise earlier than everyone else on the farm, take off his shirt, put on one leg of his trousers, open the farm door and hop on one leg around the farm and bid Þorri welcome. The farmer's wife was supposed to treat her husband well on this day and to offer him some of the delicacies associated with the season. Today, many wives or girlfriends modernise the tradition by cooking a good meal for their partner or giving him a present or flowers.
Some of the traditional foods enjoyed at feasts called Þorrablót, which take place all over the country over the next few weeks, include a number of foods that have been putrified in the traditional manner. This entails allowing them to fully decay, removing retained uric acid from the flesh and making it edible.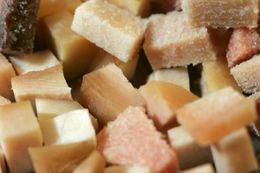 Shark has an overpowering smell of ammonia and is best enjoyed with a shot of Brennivín. Photo: Mbl.is/Ómar Óskarsson
Shark is one of the most popular and it has an overwhelming smell of ammonia.
Other foods include pickled lamb's heads, dried fish, pickled lamb's penises, pickled ram's testicles, blóðmör which is a kind of blood pudding, lifrarpylsa, a type of liver sausage, sviðasulta which is a sort of a paté with bits of sheep brains and meat in jelly, and hangikjöt, smoked cured leg of lamb. All of this is traditionally accompanied by turnip mash.