Nature and Travel
|
Iceland Monitor
|
Mon 19 Aug 2019
|
10.18 GMT
|
Modified at 11.38
Memorial Service for Glacier
Numerous people attended a memorial service yesterday for the glacier Ok in the western Icelandic highlands, Morgunblaðið reports. A plaque was placed where the glacier used to be.
"At Ok, the predictions of scientists regarding the consequences of global warming have materialized," Icelandic Prime Minister Katrín Jakobsdóttir stated. "If the development continues, more glaciers will disappear in coming years and decades. This is why I regard this moment today as a symbolic event for Iceland and, in fact, the whole world."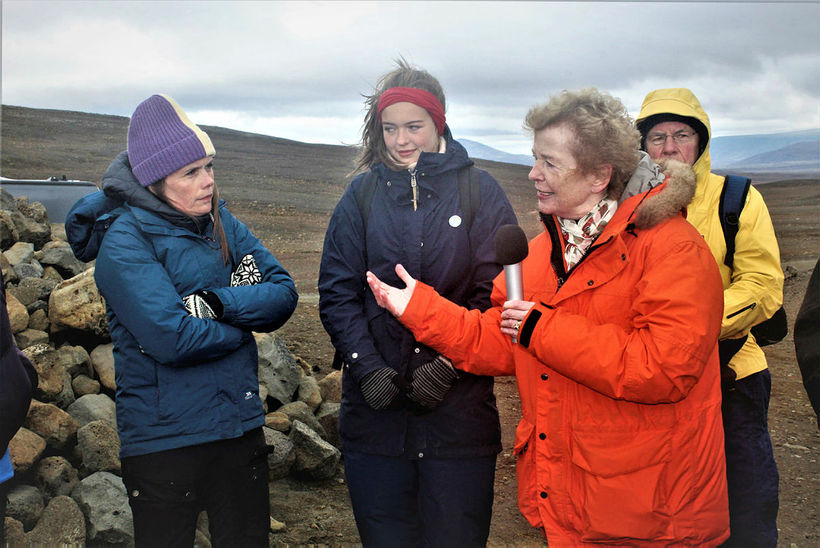 Prime Minister Katrín Jakobsdóttir, left, listens to Mary Robinson, former president of Ireland. Between them is activist Gunnhildur Fríða Hallgrímsdóttir. Glaciologist Oddur Sigurðsson is on the right. mbl.is/Sigurður Bogi
Numerous foreign reporters attended the service, held at Lambahryggur ridge, on Kaldadalsvegur road. The idea for the memorial plaque came from two anthropology professors at Rice University in Texas, and the words on the plaque were written by author Andri Snær Magnason.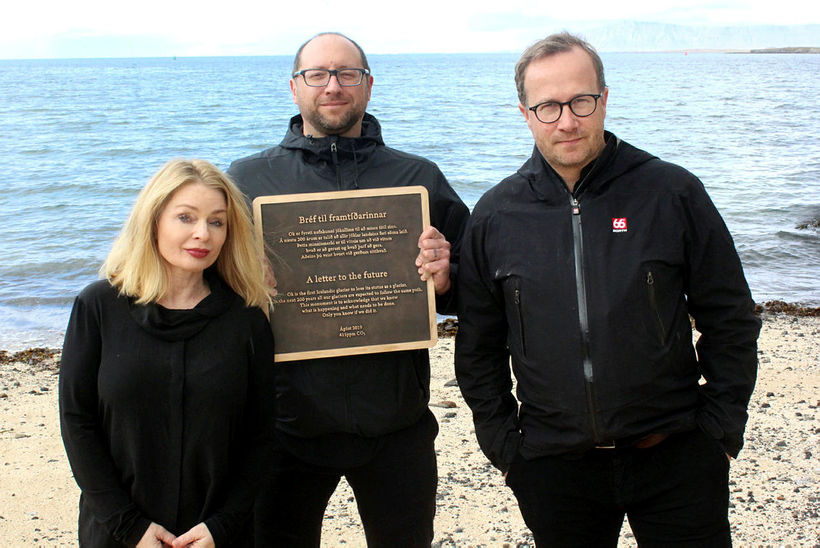 Professors Cymene Howe and Dominic Boyer, with author Andri Snær Magnason, right. mbl.is/Sigurður Bogi
Inscribed on the plaque are these words: "A letter to the future. Ok is the first Icelandic glacier to lose its status as a glacier. In the next 200 years, all our glaciers are expected to follow the same path. This monument is to acknowledge that we know what is happening and what needs to be done. Only you know if we did it."
Following the ceremony, most of the guests hiked up to the place where the glacier used to be.
Five years ago, it was declared that Ok no longer qualified as a glacier. At its largest, in 1900, it measured about 15 km2, but had diminished to 0.7 km2 in 2012, and has become even smaller since then. Scientists point out that this is the result of the climate crisis and that other Icelandic glaciers are fast retreating.
The prime minister stressed that the global community would have to react quickly to the climate crisis, which will be among the top items on the agenda at an annual meeting of the Nordic countries, scheduled for today in Reykjavík.
"A warming climate is not just about environmental issues," Katrín stated, "but also about, for example, the economic and social systems of countries. More and more people are realizing that when we talk about a climate crisis, this is the reality in countries experiencing heat waves, floods and droughts."