Nature and Travel
|
Iceland Monitor
|
Mon 15 Apr 2019
|
15.14 GMT
Adventure in Northeast Iceland
Húsavík, the" harbour of houses," is a pretty coastal town in the remote North of Iceland, less than an hour away by flight. Driving there from Reykjavík takes around nine hours and from Akureyri it's approximately one hour's drive.
Legend has it that the first ever home built in Iceland was that of Swedish Viking Garðar Svavarsson in the year 860. Húsavík is conveniently located for day trips to most of the major attractions in Iceland and is the starting point of the popular Diamond Circle.
Húsavík is also known as the town of whales, its main attraction being whale watching, as the likelihood of seeing various whale species, including the biggest whales such as blue whales, fin whales and humpback whales is great in the area, much more so than in South Iceland.
I hadn' t visited Húsavík since childhood and wanted an easy traveling experience. So I chose the local airline Eagle air and one of Iceland's foremost hotel chains, Fosshótel, had a great offer running at their Húsavík branch.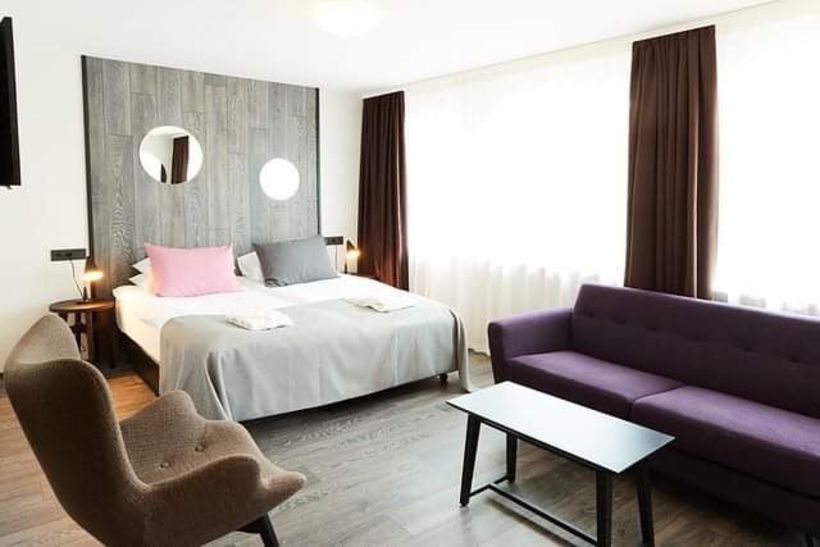 The flight is only 50 minutes long which makes Húsavík a stone's throw away from Reykjavík and therefore an ideal weekend break. Joining me were my seven-year-old daughter and my boyfriend, and it was with great excitement that we boarded the Eagle Air navy blue Jetstream 32, a small twin-turboprop plane at Reykjavík domestic airport next to Nauthólsvík. Getting on such a small plane really was part of the adventure and experiencing views of Iceland's highlands during the comfortable 50 minute flight.
Once at Húsavík we were picked up by our friendly guide, Gunnar Jóhannesson, the managing director of Travel North, who told us a little about the town. The airport is located in a lava field around a ten minute drive from Húsavík. Once in the town centre we spotted the whale watching boats at the lively harbour and the pretty church which locals are so proud of, built in 1907. Húsavík is one of the few towns of Iceland still dotted with typical wood and corrugated iron houses, making it very picturesque and the surrounding nature is magnificent with snow-capped mountains and the North Atlantic ocean all around.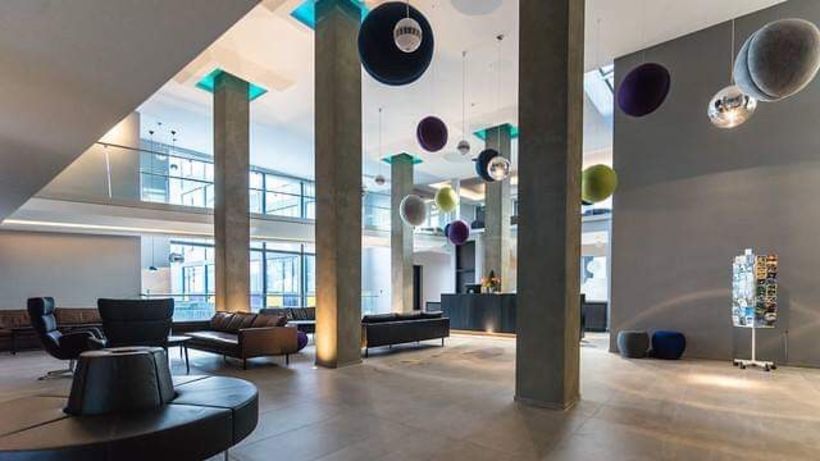 A couple of minutes walking distance from the harbour was our hotel, Fosshótel Húsavík, a modern and well-equipped hotel that offers great conference and meeting venues for all types of events and it's actually the largest conference hotel in the entire North of Iceland and offers a bright, airy, elegant but also family-friendly atmosphere. The rooms are stylish and very modern, decorated in hues of grey and purple with all amenities such as a fridge, safe and a coffee and tea-maker. We had two adjoining rooms and my daughter felt like a princess in her double bed with her private television!
The restaurant at Fosshótel Húsavík is called the Moby Dick, and aptly so as humpback whales, along with other types of whales are the pride of Húsavík. After a quick walk around the harbour and a peek into the local microbrewery located close by, which brews Húsavík öl, we enjoyed a great laid-back dinner at the sophisticated Moby Dick restaurant, going for the bistro menu that offers items such as fire-oven pizzas, hamburgers that include a reindeer burger and fish and chips, to name a few. The service is super-friendly and my daughter got a special kid's menu with nice healthy options as well as a whale colouring book and crayons. We went to bed early as Saturday morning awaited us with exciting activities.
After enjoying an excellent buffet breakfast at the hotel we headed down to the harbour. The weather was incredible, not a cloud in the sky and bright sunshine beaming down on the seemingly calm ocean. When we arrived at Gentle Giants whale watching they warned us that the waves that day were very strong once we were farther out into the Skjálfandi bay. We decided to not worry about seasickness and got onboard the boat, a charming traditional oak fishing boat which is smaller than the large whale watching vessels you'll find in Reykjavík, for example. Our German-speaking guide told us to put on overalls provided by the company. We're fine we said, dressed in three layers already, parkas and woolens, but she told us we'd really need that extra layer as the early April temperatures plus the icy North Atlantic wind contributed to a biting cold.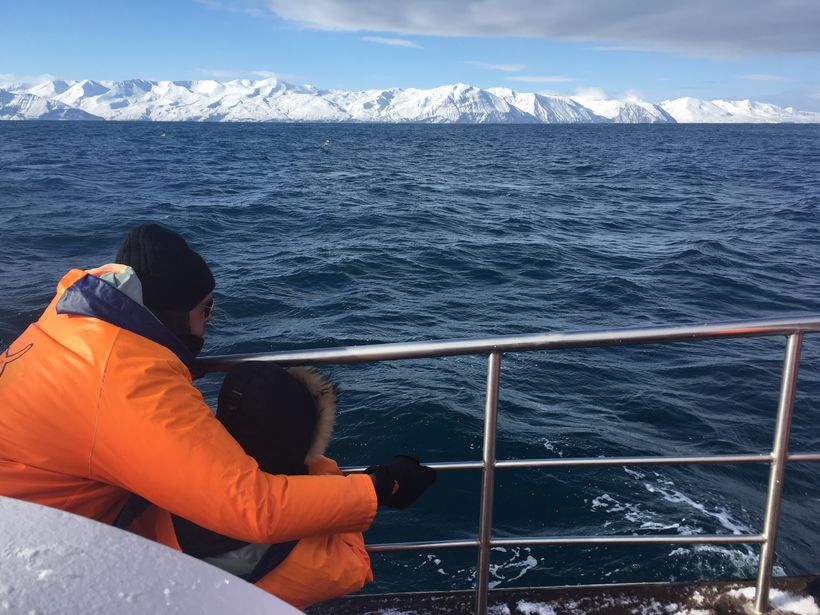 She told us also that we shouldn't get too disappointed if we didn't see any whales as the whale watching season had just started, and that we could also join another trip another day, either there or in Reykjavík if we didn't see anything. We sped off through the calm harbour and into the strong waves of the ocean as we ventured into the Skjálfandi bay. As the boat rocked in the waves, to our great joy we were greeted by a school of dolphins jumping out of the water, hunting for fish probably.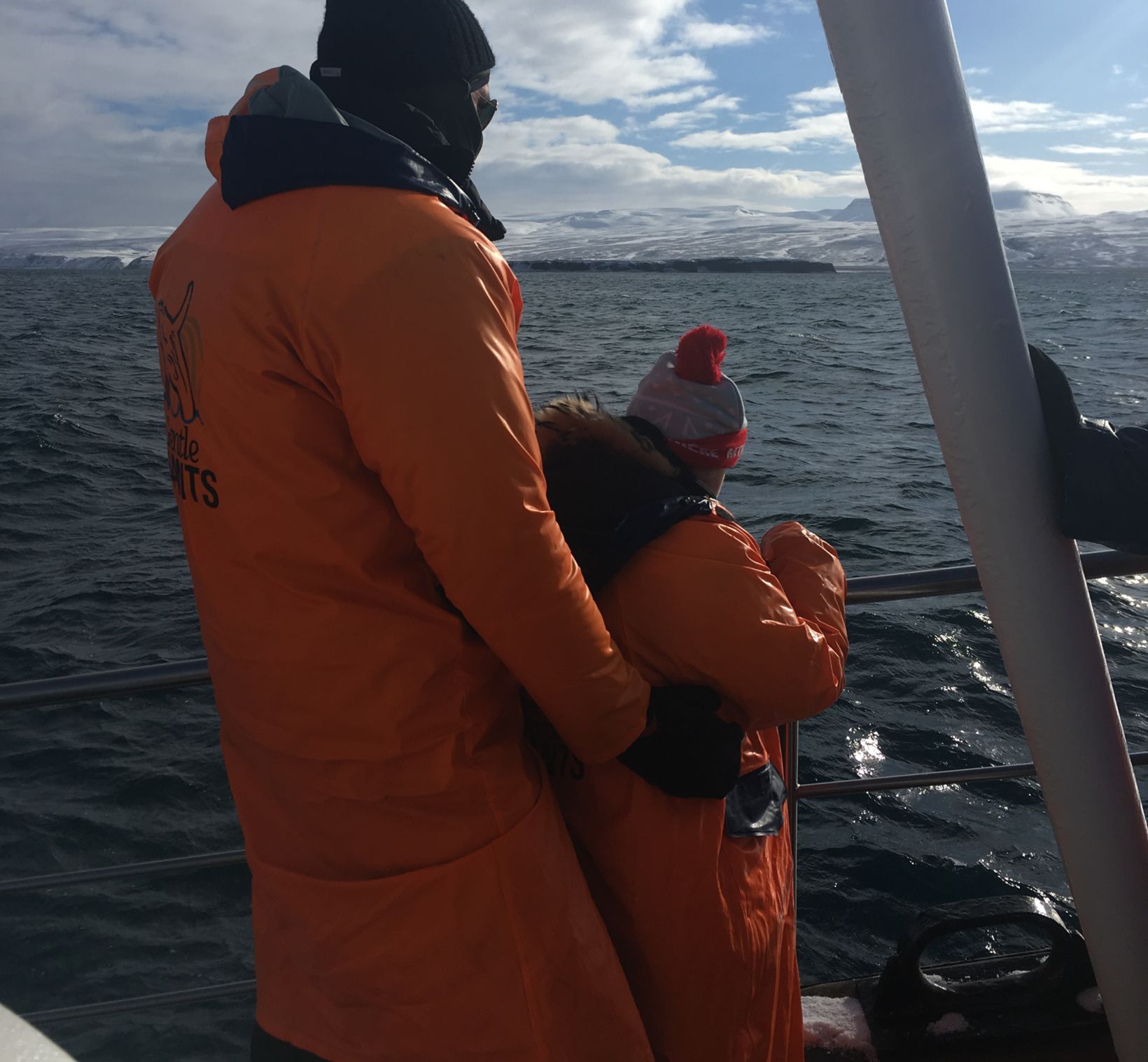 Suddenly the guide shouted, two-o-clock and as we looked over to the right side of the boat, we could see a huge, reddish-brown back of a fin whale that had come up to breathe, spouting jets of water into the air. We followed the fin whale around a little and actually spotted two of them, swimming side by side. Fin whales are the second largest whale to exist in the world and they can reach up to 21 metres in length. Sadly, these are also the whales still hunted in limited numbers by one whaling company located at Reykjavík harbour. Icelandic whale watching companies have actively voiced their disagreement with these whaling policies and place an emphasis on responsible whale watching so that people can get to know and appreciate these gentle giants of the sea.
Around an hour into our trip, our guide signaled to the horizon where three jets of water came out of from the ocean's surface. Sailing nearer, we saw humpback whales gliding up out of the water, their grey backs glistening and then a black and white tail that beautifully stood out from the ocean and then cut it once the animal dove down again. My daughter was so impressed by the sight of these massive mammals right next to our boat that she had tears in her eyes. Whales were now her favourite animal, she told me with a happy smile.
We managed to follow the three humpback whales around for a considerable length of time and the experience was truly humbling, to see these gorgeous creatures hunting in their natural habitat. Whether it was from all the excitement or all the fresh air, we certainly didn't feel a tinge of seasickness and instead enjoyed a cup of hot chocolate and Icelandic "kleinur" - doughnut style pastries - as we sailed back into Húsavík harbour.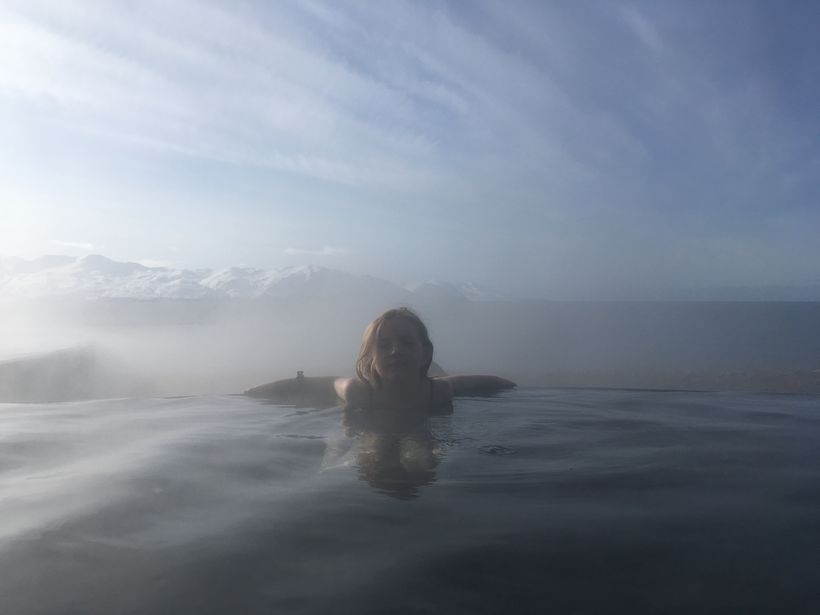 After a quick lunchtime snack at the harbour after our exhilarating morning, we caught a local cab which took us on a short drive up to the incredible Geosea, which opened only last year on the Húsavík coast. These baths have an interesting story as for centuries, geothermal heat north of Húsavík has been known to residents who used it to bathe and wash. Workers drilling for hot water in Húsavíkurhöfði in the middle of the last century unearthed water that turned out to be hot seawater, too rich in minerals to be suitable for heating local homes. So instead of letting this hot water go to waste, locals installed an old fish barrel there where they could enjoy the health benefits of bathing in this mineral-rich seawater, which is especially good for people with eczema and psoriasis. Last year, the Geosea project was completed, offering amazing infinity pools in a modern building at the edge of the cliffs overlooking the ocean. No cleaning agents are used as the water flows steadily from the drill holes and off the edge of the pools back into the sea.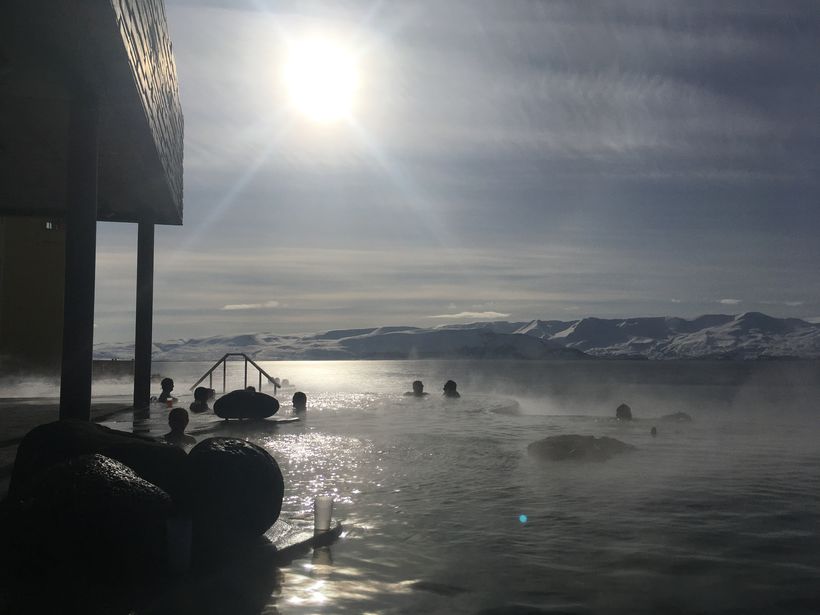 A visit to the GeoSea is a truly unforgettable experience. The water is warm and inviting, steam rises up to blend with the skyline and as you relax in the pool you can enjoy the magnificent mountains and ocean all around. It's easy spending an entire afternoon here and as the sun starts to lower on the horizon, it's the perfect spot to enjoy locally brewed Húsavík beer or fruit juice from the pool bar. The experience was enjoyed by young and old; the pools are large enough so that you can have a little swim around and enjoy slightly differing temperatures, and the water does wonders for both body and spirit.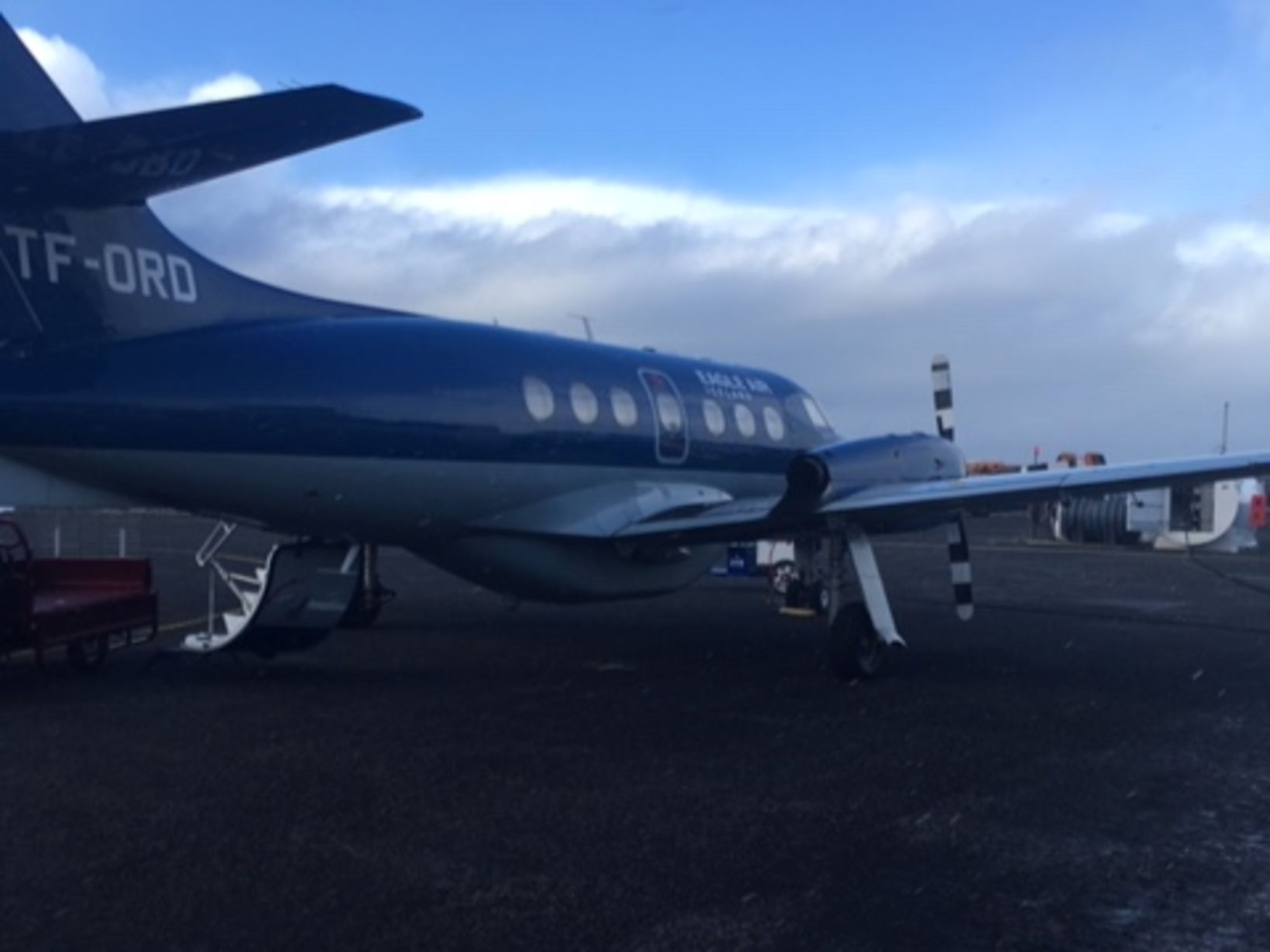 Refreshed and relaxed after our bath at Geosea we walked back to the hotel, around a 15-minute walk with picturesque views of the coastline. The swim also made us famished so we planned a two-course meal at the hotel restaurant. The a-la-carte menu offers modern spins on Icelandic traditional fare such as lamb, beef and fish, and we enjoyed a wonderful lobster chowder, followed by gorgeous tender lamb and Arctic char, while the little one tucked into a hamburger followed by chocolate cake.
On Sunday we enjoyed a leisurely hotel breakfast, complete with bacon, eggs, waffles and fresh fruit and then walked to the Exploration Museum, a super interesting project set up by entrepreneur and former journalist Örlygur Hnefill Örlygsson. This small museum is located in a historic home in the centre of Húsavík. It was founded in 2011, dedicated to human exploration of the world and outer space. The main exhibition room features photographs and artifacts from the Apollo Astronaut training near Húsavík in 1965 and 1967. The second room features the history of Viking exploration and the upper floor is dedicated to the exploration of the polar regions. In the basement there are details about expeditions beneath the sea and to underground caves. The museum offered fascinating exhibits for the entire family and is not to be missed on a visit to Húsavík.
In the afternoon we headed out to Húsavík airport again, to return to Reykjavík, happy about our memorable family weekend in this charming town.