Nature and Travel
|
Iceland Monitor
|
Mon 12 Jun 2017
|
15.23 GMT
|
Modified at 15.57
Construction in Jökulsárlón to mend a protective barrier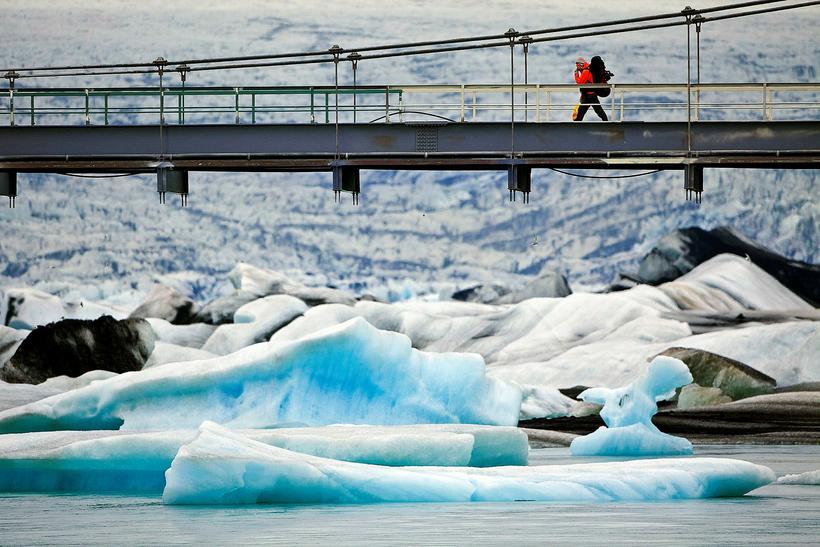 The barrier protects the bridge from icebergs large enough they could damage it. Photo: Iceland Monitor/Ómar Óskarsson
Construction work taking place in Jökulsárlón glacier lagoon has caught the eye of many passerbys, and others checking out the lagoon online.
The construction is being undertaken to mend a protective barrier located in the lagoon. The barrier stops any iceberg that is too big from getting into the river. An iceberg big enough could severely damage the bridge over the river. Instead they get stuck by the barrier until they melt into a suitable size, then they float over the barrier and down the river, underneath the bridge.
The barrier was also mended last year. Thanks to rising temperatures the glacier is shrinking faster than ever, more and more of it breaks off into the lagoon. There has been much strain on the barrier and that's why it had to be mended both this year and the last, according to Gunnlaugur Róbertsson planning director of Hornafjörður municipality.
Careful construction
Jökulsárlón is a pearl in itself, but there is much amazing nature surrounding it. All of this needs to be taken into consideration when there's any construction in the area, which is done in agreement with environmental authorities according to Róbertsson.
There are many birds that reside in the area and there are geological sites that have been preserved. Just by the parking lot there are a number of kettle holes. "There were plans to expand the parking lot over the kettle holes, but we managed to stop it in time," says Róbertsson.
Kettle holes are holes in the ground that were created by big icebergs that have melted. They can be found in other places in Iceland, but are rarely as accessible as the ones by the parking lot at