Nature and Travel
|
mbl
|
Sun 21 May 2017
|
10.19 GMT
20 places to see in West Iceland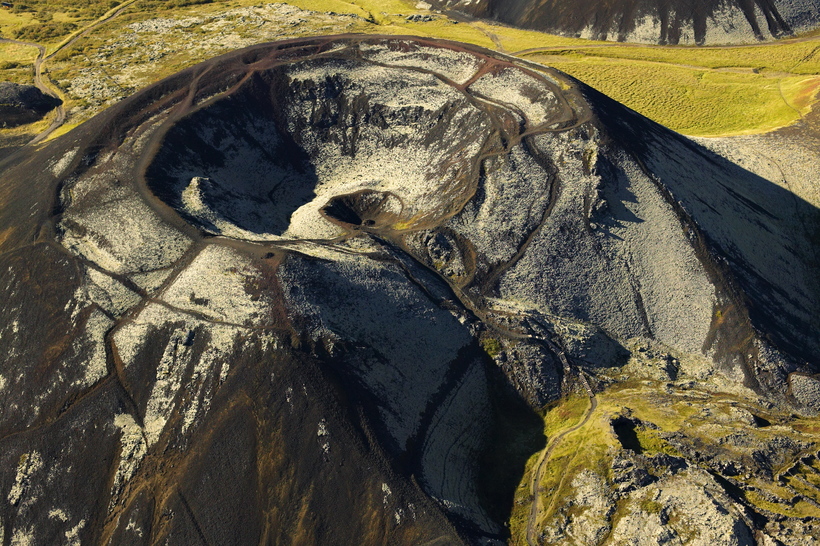 Grábrók is one of the best known mountain in West Iceland, even though it's very small. Photo: Mats Vibe Lund - mats.is
Sóley Björk Guðmundsdóttir


There are so many different things to see and do in West Iceland. With interesting historical places, diverse nature with beautiful waterfalls, lava fields, glaciers and high mountains, you could easily stay there for your whole vacation and never get bored.
Here's a list of our top 20 places to visit in West Iceland:
Erpsstaðir is a farm that produces a variety of goods from their own product. There you can stop by and buy ice cream, cheese, skyr and even skyr candy.
2. Eiríksstaðir living museum
Step back into the Viking era in the birthplace of the first Viking to sail to America over 1000 years ago.
3. Hike up Grábrók
Grábrók is a 170 m high crater, mostly covered in moss. It erupted around 3400 years ago. There is a nice walking path up the crater and around it, not to steep or long which makes it a nice break when driving through the area.
4. Glanni waterfall
In the middle of an old lava field up in Borgarfjörður there's a sign that says "Glanni", which leads to a parking lot. This is close to Bifröst University, what seems like a small village 31 km north of Borgarnes. After a few minute hike on a path from the parking lot you get to a beautiful waterfall, surrounded by small, crooked birch trees. If you look closely you might see salmon jumping up the waterfall in summer, as the river is one of the most prestigious salmon rivers in West Iceland.
A few minute walk in the other direction will get you to the peaceful Paradísarlaut (Paradise Hollow).
5. Visit Icelandic goats at Háafell
Háafell is one of the homes of the Icelandic goat. As the goat is not a popular farm animal there are very few left of it. Visitors can meet the goats and other animals in the farm, there is also a store which sells produce and products from the farm.
6. Húsafell
Húsafell is known for great weather and has been a popular destination for Icelanders on summer holidays for decades. In summer, the highest temperatures are often recorded at Húsafell, sheltered from winds by mountains and Langjökull glacier looming over.
There is a pool, a small shop, and a beautiful four star hotel with a great restaurant called Hótel Húsafell, and there are a number of hiking paths of different difficulties to explore the area.
The lava cave was formed just over 1000 years ago. It was closed off for a long time, which means all the beautiful lava formations are untouched and unspoilt. In the tour you hike just under 700 m inside the cave, on a platform to protect it. The hike is easy and the tour is family friendly. Surrounding you are a stunning area of colours, different lava formations (some of which look like melting chocolate), and if you come in winter, ice formations. It's truly an amazing experience, Víðgelmir is a cave like no other.
A very different sort of "cave" exploring. It's a manmade ice cave in Langjökull, Iceland's second largest glacier, created a few years back. The ice cave is 800 m long and reaches 30m into the glacier, lit up for you to see the array of blue and white glacier colours. It's without a doubt one of the most popular tourist attractions in the area.
9. Reykholt
Reykholt is a small village, or almost that. There is a church, a hotel and a geothermal pool named after Snorri Sturluson, Iceland most famous poet and writer in the 13th century. He wrote both Heimskringla and Snorra Edda. There you can find Snorrastofa a cultural - and medieval centre, founded in his memory. Snorrastofa manages various research projects and provides reception and information for travelers, historical exhibitions, guided tours and lectures. Books on history and culture, Icelandic handicraft and souvenirs are available in the shop.
10. Deildartunguhver
The most powerful hot spring in Europe is located just by the road. The water of Deildartunguhver hot spring pumps up 180 litres per second of literally boiling hot water. It has been used by locals for centuries to cook their food and clean, and recently to warm up the houses in the area and surrounding towns. Even though the water is harvested so much, you can stop by and see much of it bubbling and streaming out. The only problem is that if you want to take pictures of it, there is quite a lot of steam!
11. Natural geothermal baths
Not all the geothermal water in West Iceland is scolding hot when it reaches the surface. Some are the perfect temperature for bathing, summer or winter. The facilities differ, some are spa like while others are more natural. If you want a more family friendly soak, there are plenty of swimming pools in the area.
12. Selfie with a horse at Sturlu Reykir
For a quick stop for Icelandic horses, stop by at Sturlu Reykir, which will open this summer. The local horse farmers have opened the farm for visits, where you can meet some of their horses, pet them and take pictures.
13. Hraunfossar and Barnafoss waterfalls
In this local's humble opinion, Hraunfossar is one of the most beautiful waterfall in Iceland. It's not great or powerful, but it's unique and absolutely beautiful. It doesn't come from a visible stream or a river, it comes from under the lava field and falls down into Hvítá river. It's surrounded by green vegetation that turns into a spectacular yellow-red-green painting in autumn.
A two minutes hike or so North of Hraunfossar there's Barnafoss. A very different sort of waterfall. Barnafoss is in Hvítá itself, which is a milky white and relatively big glacier river. The waterfall is loud and powerful, and hammers on the rocks of the canyon it runs through. The name, Barnafoss (English: children's waterfall), refers to a folktale. Two children were walking over a stone arch over the waterfall, which serviced as a bridge in those days. They fell into the river and drowned. Their mother was so furious that she had the arch broken down.
13. Snæfellsnes peninsula
Snæfellsnes Peninsula is offers so many things to see and to, long stretches of black beaches, tall glacier and volcano, amazing rock formations, charming small fishing towns and beautiful mountains and mountain passes. You can easily spend days there, or check out the highlights in a self-drive day tour from Reykjavik.
14. Go sailing
There are many islands, skerries and stacks on the coast of West Iceland. Together they form a beautiful scenery and sailing around them is a lovely experience. You can take the ferry to Flatey Island, where there's a guesthouse and a small village during the summer, or go sailing and even fishing or catching scallops with local tour operators.
15. Ljómalind Farmers Market
Borgarfjörður is an agricultural area, there are plenty of farms with diverse animals and crops. There are even those who specialize in working with Icelandic wool. At Ljómalind Farmers Market you can discover all these things in one place, and buy a snack for the road or a souvenir to take back home.
Steðji is a family owned brewery in the heart of Borgarfjörður, west Iceland. It's a brewery not afraid to test the limits, and are perhaps most famous for their beer brewed with whale testicles. They offer tours around their brewery and tastings.
17. Hvanneyri
Hvanneyri is best known for being the home of The Agricultural University of Iceland. That's not all though. There you can visit the Agricultural Museum of Iceland and Ullarselið Wool Centre. It's a store set up by locals interested in new and old ways to use and process wool, with varied hand-made items for sale.
18. Visit a museum
There are a number of museums in the area, with different focus on different things. You can explore everything from the Icelandic sagas, to volcanoes, art, war and more recent heritage. Here you can see a list of the museums in the area.
19. Akranes
Dip your toes into the sea at Langisandur beach by Akranes on warm summer day. There are two lighthouses not far off, and the larger one is open for a visits. The lighthouses and the scenery is amazing and has inspired many photographers. If you have time, a visit to Akranes Folk Museum is definitely worth the trip.
20. Hvalfjörður
Hvalfjörður is a fjord just north of Reykjavík. There is very little traffic there as the nr.1 ring road lies through a tunnel under it. Technically half of it belongs to South Iceland and half of it to West Iceland, but let's not focus on the small things!
The nature in Hvalfjörður is nothing short of beautiful, with streams, rivers, and Glymur waterfall, considered by many one of the most beautiful waterfalls in Iceland, falling down a narrow ravine from a great height. The USA army settled in Hvalfjörður and much of the buildings and remains are still there, scattered about. There is also an old whaling station there, the only one in use after whaling was allowed again in 2009.