Nature and Travel
|
Iceland Monitor
|
Fri 17 Mar 2017
|
13.18 GMT
Kerlingarfjöll in the Icelandic highlands to become a reserve
Kerlingarfjöll Mountains and geothermal area in the highlands of Iceland are in the process of being turned into a nature reserve. Parts of the area are already protected, but the whole 367 square kilometres will soon be under the state's protection.
The geothermal area at Kerlingarfjöll is very powerful, some of the hot spring are 140-150°C. Earlier it was considered to harness that power with a geothermal power plant. That is obviously not an option any longer.
A popular destination for domestic tourists
Kerlingarfjöll is a stunning area, where highland snow meets a steaming geothermal area. The hot water has brought minerals to the surface, which have over the year coloured the surroundings.
These extremes make Kerlingarfjöll one of Iceland's most precious natural pearls. It has been a destination of Icelandic tourists for decades, with a camping area, huts to sleep in and minimal service. There was even a ski slope there for a while. It's also popular for hiking. If you climb the tall peaks of Kerlingarfjöll Mountain ridge, you'll have almost half of the country before your eyes, both South and North Iceland.
Open in winter, but be sure to hitch a ride
Kjalvegur highland roads lies from Húnavatnssýsla in the North, to Gullfoss waterfall in the South. Kerlingarfjöll are located in between, close to Hveravellir (another beautiful geothermal area). As there is no service in winter on highland roads, the area is only accessible by a normal car in summer, and only in a decent 4x4.
With some exceptions. As roaming around the highlands in super jeeps and snow mobiles is a popular sport in Iceland, Kerlingarfjöll is a destination both in winter and in summer with a decent vehicle. This is only possible for those with experience, but there are tours to Kerlingarfjöll in winter and you can rent a mountain hut as the facilities are open in winter. There's even a restaurant there, no restaurant is located even near to this high up in the mountains.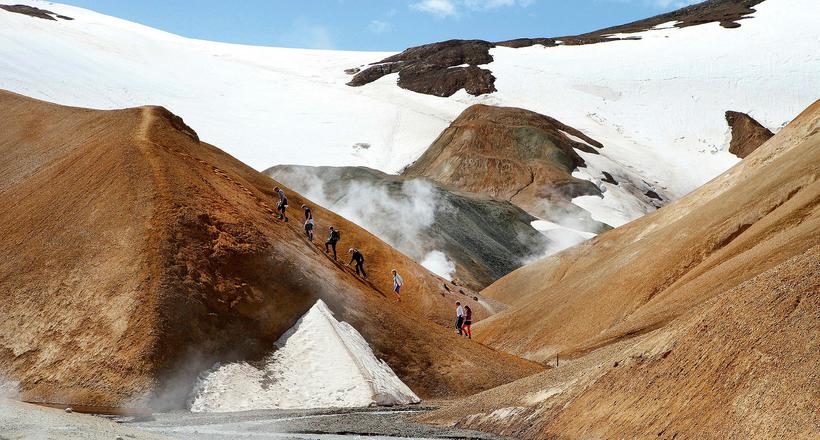 Hot springs and what seems like ever lasting snow in the highlands. Photo: Iceland Monitor/Einar Falur Ingólfsson