Nature and Travel
|
mbl
|
Sat 4 Mar 2017
|
9.29 GMT
|
Modified 5 Mar 2017 15.30
Where to go on a day at Grandinn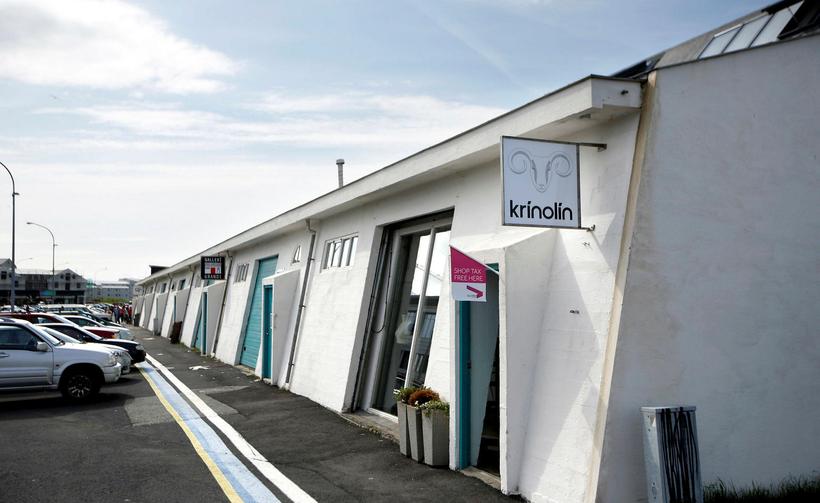 Many of the stores and café's are in old fisherman's huts. Photo: Iceland Monitor/Eggert Jóhannesson
Grandi is the harbour area of Reykjavik. In the recent years it's become more and more booming with life. Some of Iceland's best delicacy stores are in Grandi, as well as cafés, cake shops, ice cream shops and don't let me get started on the museums.
The area is a mere 10-15 minute walk from the city centre, and it's just as easy to spend an entire day there as in the centre.
Here are some of Iceland Monitor's favourite places to visit at Grandinn, and they can easily be lined up so they fit perfectly for one day.
What better way is there to start off the day than to look at lifelike wax statues of Vikings? The Saga Museum features parts of some of the most famous Icelandic sagas, written in the 12th and 13th century. They tell the tales of heroes of the time, who were mostly both poets and ruthless fighters. It also features some of the basics of Iceland's history. Inside the exhibition hall you get an audio guide and watch the correlating scene in statues in front of you. Outside of the hall you can dress up as a Viking and take a picture with a polar bear.
Kaffivagninn is a diner like restaurant that has for years been servicing the fishermen of the docks. Now it also services tourists and others who make their way to Grandi. The menu is simple, traditional Icelandic food with fresh ingredients. A brilliant stop for lunch and their brunch is very good. They also mark especially on their menu what courses are available gluten free and/or lactose free, and by that go 8 steps further in assisting people with special dietary needs than most restaurants in Reykjavik.
After lunch, desert is needed. 17 sortir is a luxury cake shop with amazing looking cakes and pastries. The biggest problem is to choose which one to get, as the variety is great. There are even cakes flavoured with salted liquorice candies, so very popular in Iceland.
If you don't have a chance to glimpse the Northern Lights, Aurora Reykjavik, the Northern Lights Centre is a great visit. Even if you are going to see them, it's a great visit. There you can find out folk tales on these amazing lights in the sky, and how and why they exist. Don't try to ask an Icelander about it, he likely won't be able to explain as it is rather complicated. There is a great hall in the Centre with pictures of the Northern Lights and soothing music. It's so relaxing it's hard not to fall asleep. The end of the exhibit teaches you how to take your own photographs of the Northern Lights, there you can also find out about the Northern Lights forecast for the next few days.
After all this walking around, sitting down for a drink at Kumiko and relaxing for a bit is a great way to go. Kumiko is a Japanese Manga styled teahouse, with a wide array of drinks and pastries. The theme of it is both beautiful and amusing in a way, not like anything else you'll see in Iceland. They have a great macha ice tea and their gluten free cupcakes are the best in Reykjavik! (To tell you the truth, they might be the only gluten free cupcakes in Reykjavik. But they are still delicious!).
On your way to Kumiko, you'll pass Búrið ljúfmetisverslun, a delicacy store which focuses on cheese. There is a great array of product, both Icelandic and foreign. And oh all the cheese. It's a perfect stop to look into and perhaps shop for an evening snack, or next day's brunch.
"Soldiers of the nation, heroes of the sea" is how sailors have been referred to in Iceland over the years, as fisheries have for centuries been a very important part of Iceland's economy. At the museum you can find out more about the history of fishing in Iceland (interesting fact, there have always been female sailors in Iceland). You can also visit The Coast Guard vessel Óðinn, which is a part of the exhibition.
Matur og drykkur is in the building as the Saga Museum. It's one of Iceland's most acclaimed restaurants and the food is all traditional Icelandic cuisine with a modern twist (the name refers to a cooking book written by Helga Sigurðadóttir, published in 1947, which is sometimes referred to as the bible of Icelandic cooking). One of their most famous dishes is a whole cod head, poached in chicken stock. Very appropriate for the location on the docks.
On a warm summer day or cold, still winter night, there is easily a line out of Valdís ice cream shop. It's immensely popular, and there's a simple reason. The ice cream is great and the array of flavours is brilliant. If you want to be totally like a local, get a scoop with salted liquorice flavour which Icelanders love so much.