Nature and Travel
|
mbl
|
Mon 13 Feb 2017
|
23.00 GMT
|
Modified 15 Feb 2017 10.24
20 stunning places to enjoy nature in South Iceland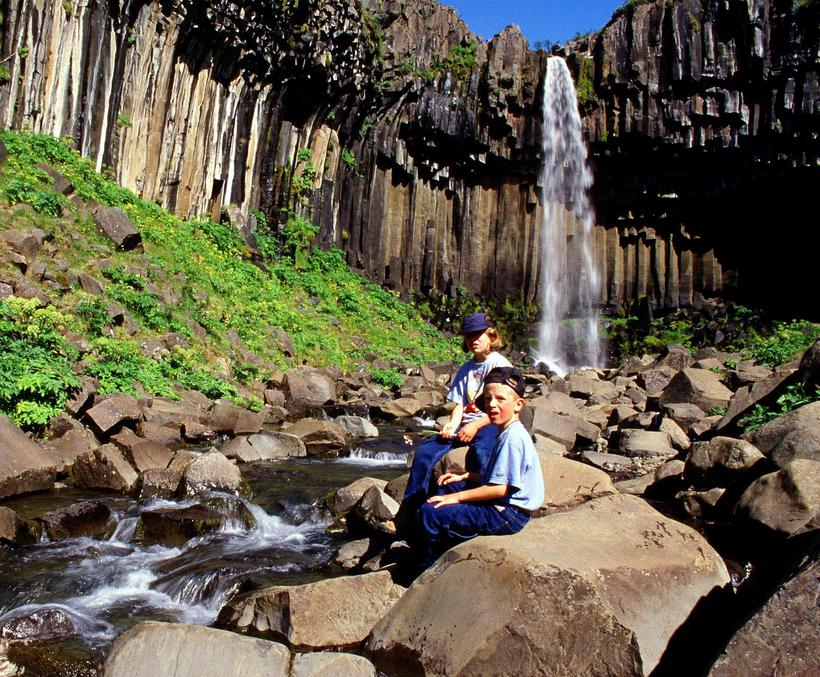 Svartifoss waterfall is in Skaftafell, by Vatnajökull Glacier. Photo: Iceland Monitor/Ómar Óskarsson
There are many gorgeous sites to see in South Iceland. Here's a list of 20 stunning places to enjoy nature that are all easily accessible and close to the nr. 1 ring road.
Reykjardalur
Hveragerði is a town 45 km south of Reykjavik. The name literally means "hot spring town" and it's, predictably, known for geothermal areas and for using them to cultivate vegetables. There is a geothermal area you can visit in town, but even more exciting are the natural hot pools and streams in Reykjardalur, around a one hour hike from the end of the road.
The Golden Circle
Golden Circle is a must when travelling in South Iceland.
Þingvellir national park is a favourite for both locals and tourists. No surprise there as the nature there is nothing short of magnificent.
Gullfoss waterfall is not only beautiful to behold, you can almost feel the power in the water as you watch it thunder down.
Geysir is Iceland's most famous geyser, so much that the English word derives from it's name. Geysir doesn't erupt much these days, but it's neighbour Strokkur does so every few minutes.
Urriðafoss
Urriðafoss is Iceland's largest waterfalls in terms of how much water runs through it. It's located in Þjórsá River, just a few hundred metres south of the nr. 1 ring road. Which makes it a great pit stop while driving around the south coast. Another bonus is that it's not a very popular destination, being so close a more famous waterfall, Seljarlandsfoss, so it doesn't get to crowded. There is talk of building a hydroelectric power stations in the river, which might either change the waterfall drastically or simply make it disappear.
Secret Lagoon
Gamla laugin, Secret Lagoon is a natural geothermal pool perfect for those who want to try sucn a pool but dislike undressing in front of others, as most natural pools in Iceland don't have any facilities to change. The Secret Lagoon itself is rustic, which gives you the experience, but there are also showers and a restaurant by the pool.
Seljalandsfoss
Seljalandsfoss waterfall originates in Eyjafjallajökull glacier (and volcano). It's an impressive sight as it drops 60 m (197 ft). There is a path that lies behind the waterfall, which makes for great pictures. It's no surprise that it's one of the more popular pit stops along the south coast, only a few hundred metres from the nr. 1 ring road.
Gljúfrabúi
Gljúfrabúi is a well kept secret a few hundred metres north of Seljarlandsfoss. It's another waterfall that a lot less people know about, as it's located in a narrow gorge. Gljúfrabúi is not nearly as accessible as Seljalandsfoss, as you have to wade the river to get to it, but it's worth it.
Dyrhólaey
Dyrhólaey is a 120-metre high promontory, located close to village Vík í Mýrdal. The name refers to a giant hole in the cliff, so large that when the sea is calm small boats can sail through it. The view from the top is remarkable and the birdlife is in abundance.
Reynisfjara
Reynisfjara is considered one of Iceland's most stunning black sand beaches (located right next to Dyrhólaey, so to speak). It's known for beautiful columnar basalt cliffs on the beach and dramatic looking basalt stacks in the sea called Reynisdrangar. The only thing to remember is that the waves are strong and the sea is unpredictable, take care as fatal accidents have happened there.
Vestmannaeyjar
Vestmannaeyjar islands are just a 30 minutes ferry ride from the south coast. They are known for being the puffin capital of Iceland, for a volcanic eruption in 1973 (parts of the town are still buried in lava) and absolutely gorgeous scenery.
Skógafoss
Skógafoss is one of these picture perfect waterfalls, looks like it's straight out of a book. It's 60m high and 25 m wide, indeed very striking. The infamous volcano Eyjafjallajökull looms over it.
Dverghamrar
Dverghamrar (English: Dwarf Rocks) are located just east of the farm Foss. They are peculiar and beautiful formations of columnar basalt.
Kirkjugólf
Kirkjugólf is a rock formation east of the town Kirkjubæjarklaustur. The name means "church floor", though it has nothing to do with a church. It's an approx. 80 m² expanse of columnar basalt that looks like hexagonal tiles that resembles an adorned church floor.
Fjaðrárgljúfur
Fjaðrárgljúfur is a winding 2 km long canyon close to the town Kirkjubæjarklaustur. It's a short distance from the nr. 1 ring road, on a pretty decent gravel road. The cliffs of the canyon are steep and reach up to 100 m. The scenery seems ever changing, great for snapping memorable pictures. You can either walk on the banks of the canyon or walk at the bottom of it, which means you have to wade over Fjarðá River a few times.
Sólheimajökull
Sólheimajökull glacier is one if the most accessible glaciers in Iceland. It's a part of Mýrdalsjökull glacier, and has been named "climate glacier" as it responds rather quickly to climate changes and has shrunk considerably in the last decade. There is a parking lot close to the glacier and you can hike up to it, but considered that you should not climb it unless properly attired and accompanied. There are many tour operators that offer both hiking tours and snowmobile tours to Mýrdalsjökull glacier.
Laufskálavarða
Laufskálavarða is a lava ridge, surrounded by stone cairns, between the Hólmsá and Skálmá Rivers. Travellers crossing the desert of Mýrdalssandur for the first time would pile stones up to make a cairn, which was supposed to bring them good fortune on the journey. Today, these piles of stones seem endless.
Hnappavellir
Hnappavellir í Öræfum is one of the country's most popular climbing areas.
Vatnajökull
Vatnajökull is the largest glacier in Iceland, It's both stunning to look at afar and to explore. There are plenty of hikes and tour operators that offer trips on the glacier.
Skaftafell
Skaftafell is a nature reserve named after Skaftafell glacier (a spur of Vatnajökull glacier). The nature of the area is nothing short of sensational, where green vegetation meets the glacier and mountains. There are a lot of hiking paths in the area, leading to various attractions, one of the best known is Svartifoss waterfall.
Jökulsárlón
Jökulsárlón, is a lagoon by Vatnajökull glacier. It's full of giant naturally formed ice sculptures, parts of the glacier that have broken off.
Eystrahorn
Eystrahorn is a mountain just north east of Höfn. It's described by locals as stunning and awful and there are loads of stories to it. You can hike around it and feel it for yourself.
Many movies, both Icelandic and foreign have been filmed by the mountain. There is even a Viking village there, props left by one of the production companies.