Nature and Travel
|
Morgunblaðið
|
Fri 12 Aug 2016
|
8.00 GMT
|
Modified 4 Nov 2016 11.38
The "flying" gait of the Icelandic horse researched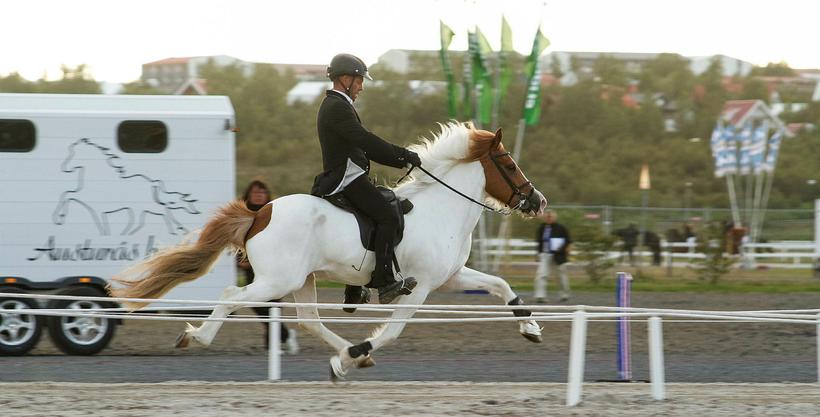 Riding a horse in the "skeið" or flying pace is considered very fine horsemanship. Mbl.is/ Styrmir Kári
New research conducted in cooperation with Scandinavian universities sheds new light on the origins of the Icelandic horse.
New research has shown that the "Flying Pace gene" mutation in the Icelandic horse occurred earier than previousy thought. Until now it was thought that the gene first appeared in Mongolia and then spread to Europe. The new research was conducted in Iceland, Greenland, The Faroe Islands, Norway and Northern Europe and was focused on the origins of the Icelandic sheep and the Icelandic horse.
The Icelandic horse is unusual in that it has five gaits, including the Flying Pace which is a fast gait during which both legs on one side of the horse touch the ground at the sameat the same speed of a full gallop. The rider sits almost still in the saddle and at intervals, all four hooves of the horse do not touch the ground, almost as if they are flying.
"I hope that in the course of one year we will be able to produce detailed results of the origins of the Icelandic horse," says Albína Hulda Pálsdóttir, archeologist at the Icelandic University of Agriculture.