Nature and Travel
|
mbl
|
Tue 7 Jun 2016
|
20.00 GMT
Iceland's most luxurious country hotel now offers Google map street view
Hótel Rangá is a dream of a country resort. It's located on the tranquil banks of the Rangá river in South Iceland and has built up a steady reputation of refined luxury, a cosy atmosphere and outstanding dining.
The hotel is also immensely popular for the jacuzzi's filled with Iceland's geothermal water which are located outside the hotel rooms, with a direct view up to the stars and even Northern Lights, if you're lucky.
Aside from their standard rooms which are all furnished in an elegant, country hotel style, Hótel Rangá offers luxurious suites that are all themed according to different continents. These include an exquisite Asia suite decorated in Japanese style, a safari-esque Africa suite and the truly spectacular Antarctica suite, decorated in black and white and somehow reminiscent of the set on a Kubrick film.
Now Hótel Rangá is the first hotel in Iceland to be featured on Google Maps Street View which means that travelllers can now plan their stay beforehand by enjoying an interactive experience of the hotel rooms, suites and amenities.
Another factor that makes Hótel Rangá even more special is its observatory, where you can star gaze away for an intimate evening with the universe.
The observatory contains two telecopes of very high quality which are computerised and on a permanent pier, perfect for astrophotography.
For more information on the hotel, bookings and a list of available activites in the surrounding area which include fishing, horse riding and hiking, visit their website HERE.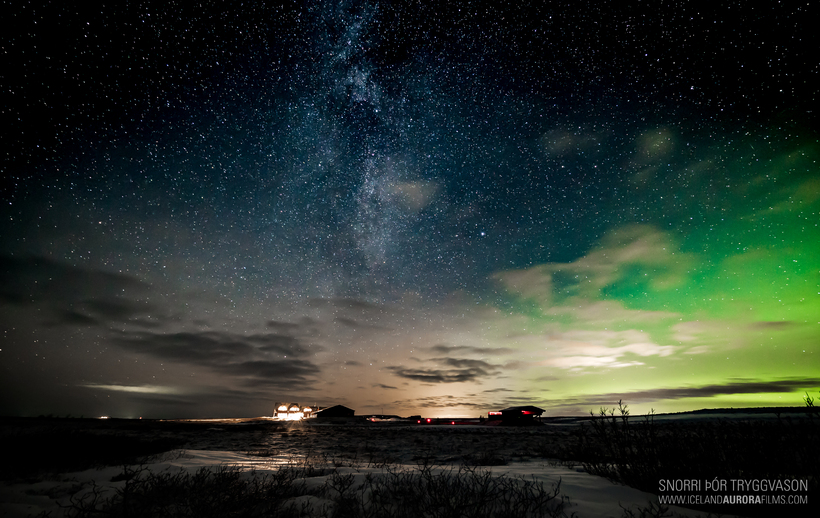 The Northern Lights above Hótel Rangá. The hotel has great conditions for viewing this phenomenon which usually occurs in autumn and winter when skies are clear. mynd/Snorri Þór Tryggvason