Nature and Travel
|
Iceland Monitor
|
Sun 6 Mar 2016
|
12.56 GMT
|
Modified 18 Apr 2016 10.33
Tourists ignore police warnings at Gullfoss waterfall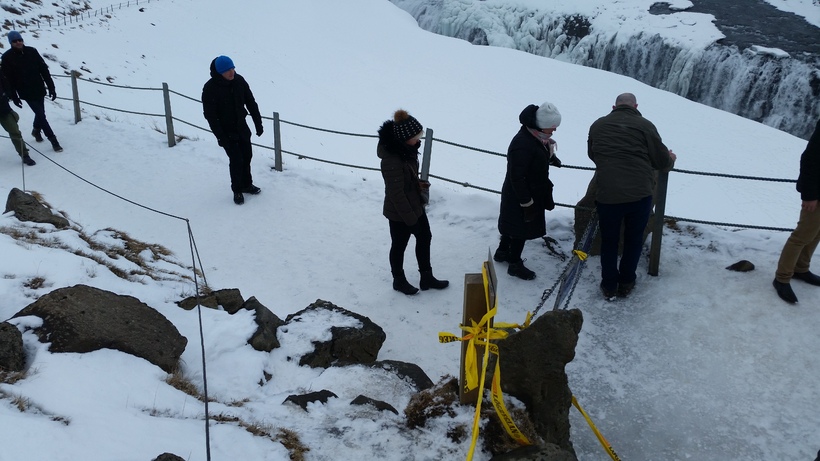 The photographs show tourists removing police tape and crossing the barrier and warning signs at Gullfoss waterfall. Photo: Hermann Valsson
Despite police banners having put up to close the lower pathway to the Gullfoss waterfall in Iceland, tourists are completely ignoring them. The icy path is extremely dangerous during winter.
The accompanying photographs show dozens of tourists blatantly ignoring the closing signs and walking all along the ice towards the waterfall. Tour guide Hermann Valsson took the accompanying photographs last night and has harsh words on the state of the Icelandic travel industry in an interview with mbl.is.
"We have to put much stricter rules on access to these sites, and we're not doing that. The state of things at Gulffoss and at the Geysir waterfall is catastrophic," says Valsson who has written an open letter of complaint to the Environment Agency in Iceland.
"We are harming the industry. Just like we harmed the fishing industry in the 1960's with the overfishing of herring. We built a complete industry on the herring but because of greed and complacency we ruined it. It's a good comparison because we know the fishing industry very well. If we don't secure the safety of tourists to Iceland, so that they can access what they've been sold, safety, accessibility and service, we are ruining the travel industry just as we destroyed the herring industry. It's not complicated."
Related stories: