Nature and Travel
|
Iceland Monitor
|
Tue 25 Aug 2015
|
14.36 GMT
|
Modified 14 Apr 2016 16.33
Climate change to affect glacier lagoon
Iceland's famous Jökulsárlón glacier lagoon may look rather different in five years' time, due to global warming and receding ice.
Esjufjallarönd is what is known as a 'medial moraine', defined as a ridge of soil and rock debris at the meeting point of two glaciers. Esjufjallarönd runs the length of Breiðamerkurjökull glacier, separating the middle section from the eastern section (Norðlingalægðarjökull), which currently runs into the waters of Jökulsárlón.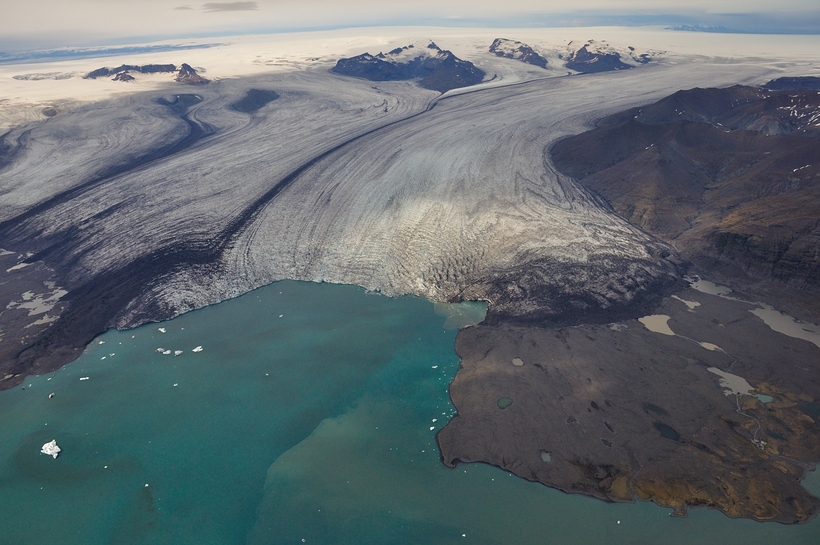 Esjufjallarönd can clearly be seen here as a black stripe just to the west of Jökulsárlón. Photo: Snævarr Guðmundsson
Breiðamerkurjökull is receding quickly due to climate change, according to Snævarr Guðmundsson of the South East Iceland Nature Research Centre.
As icebergs break off Norðlingalægðarjökull into Iceland's famous lagoon, the ice-level falls. The adjacent glacier then moves towards the depression created. The effect of this is that Esjufjallarönd is gradually pulling towards the east.
In the last five years, 700-1,000 m of ice near Esjufjallarönd has broken off and Guðmundsson therefore estimates that this ridge of debris will lead straight into Jökulsárlón in 3-5 years' time.