Nature and Travel
|
Iceland Monitor
|
Fri 17 Jul 2015
|
10.01 GMT
|
Modified 3 Jun 2016 12.04
Cairns built by tourists taken down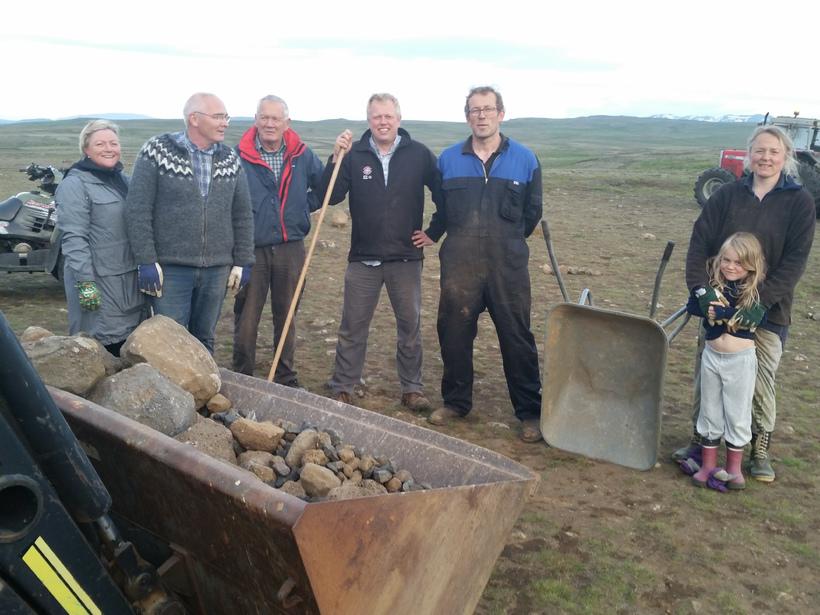 Jó­hann­es and Björg, farmers at Heiðarbær in Þingvellir to the right, accompanied by their daughter Steinunn. Photo: Ari Arnórsson
"We urge people to help us to keep this down," explains guide Ari Arnórsson who accompanied by the farmers of Heiðarbær, has removed hundreds of cairns which had been built by tourists at Þingvellir national park.
Building of cairns from rocks seems to be a new trend for travellers to Iceland. According to Arnórsson, the area covered in cairns measures 300 by 250 metres and is on land owned by the Heiðarbær farm. Tourists have used rocks from the area as well as concrete slabs to build them.
Farmers removed the rocks yesterday with a tractor and Arnórsson says that the material weighed dozens of tonnes. He stresses that these cairns are detrimental to the natural environment."It was painful to see how much the vegetation in the area had suffered and how fast these piles of rock are being rebuilt. The day before yesterday, farmer Björg walked around the area after we had removed all of them. However, when we returned last night, over 100 new ones had been built. The speed at which tourists are raising these cairns is incredible."
Arnórsson says that destroying the natural environment in this way is just like putting graffiti on a wall. As soon as one person starts, other tourists copy them. "It's the same for us Icelanders, we observe what the locals do and then we copy them. I've spoken to many people who have been building these piles and they all know what they're doing, they just pretend they don't. It's not enough to try to educate people and tell them it's wrong. It's like trying to tell a tourist that you shouldn't go to the toilet in another person's garden. Of course they know that's not ok. It's not our duty to tell tourists every single thing that they're not supposed to do in iceland. "
Þingvellir national park has, however, had two signs put up now indicating that people are not allowed to build cairns from rocks and ropes have been put up between two posts to prevent them from doing so. "We're waiting to see which method works better," says Arnórsson.
"The reason that we're coming forward with this to the media is to encourage the public to keep this down. The piles of rock are easy to kick down. They're nothing even similar to real cairns, which are over 1,50 metres hight and really well constructed. There's no mistaking a pile of rocks made by tourists for a historic cairn. It's like the difference between bad graffiti and a beautiful painting."
Related stories: